03/10/2020Online Katazome (Stencil Dyeing) Workshop
In this workshop, participants will make a katazome-printed silk square suitable for a head or neck scarf. The workshop is suitable for any level of design or textile printing experience.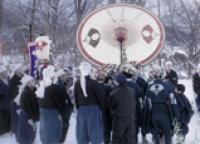 10/10/2020ONLINE TALK - Zaido: Documenting a 1,300 year old ceremony
In this special talk, photographer Yukari Chikura will share behind the scenes insights into the stories captured in her photographs which were taken during a restorative pilgrimage to document the 1,300-year-old ceremony, known locally as Zaido.