Designing and Creating Japanese Gardens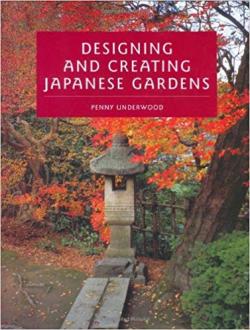 The Crowood Press, 2005, 192 pages, including bibliography and index. Hardback £25. ISBN 13: 978 – 186126 7832
Review by Sir Hugh Cortazzi
I recently reviewed a book with a similar title published in 2007 by Kodansha International (Japan-UK Review Volume 2 No 4, August 2007). This was "Create Your Own Japanese Garden: a Practical Guide" by Motomu Oguchi and Joseph Cali. Had I known of Penny Underwood's book I would have reviewed them together, particularly as Penny refers to some Japanese gardens in Britain including one in Dorset, another in Hampshire and the Kyoto garden in Holland Park. I feel a special connection with the Kyoto garden, as it came about after I had approached the Chairman of the Kyoto Chamber of Commerce and Industry for funds for a Japanese garden as part of the 1991 Japan Festival in the United Kingdom which marked the Japan Society's centenary.
I pride myself perhaps wrongly that when I heaped praise on gardens in Kyoto and suggested that the garden be called the Kyoto Garden, this helped to induce the Chamber to make the generous donations which made possible the designing and building of the garden in Holland Park. I also believe, again perhaps wrongly, that the 1991 Festival and the creation of the Kyoto Garden was at least a partial catalyst for the establishment of the flourishing Japan Garden Society in Britain. In this context I was disappointed that the author makes no mention of the Japan Garden Society or its real achievements in reviving Japanese gardens in Britain and bringing together enthusiasts and experts as well as designers and suppliers of materials for building Japanese gardens here. As I said in my review in the August issue, the best advice to anyone interested in creating a Japanese garden in Britain is to get in touch with the Japan Garden Society, join it and read their excellent quarterly journal Shakkei.
My task here is, however, to review this book rather than promote the Society of which I am the honorary President. One of their expert members might be better qualified than I am to review this book.
Penny Underwood's book is not only a practical guide to making a Japanese garden but also a general introduction to Japanese gardens. It covers much the same ground as the volume which I reviewed previously. The most useful chapter is, I think, Chapter 8 "Planning a Japanese Style Garden in the West" in which she stresses the importance of finding the right soil and of course, ambience. But her comments on structural features (chapter 7) and on maintenance considerations (chapter 9) are valuable, as are her views on plants and planting (chapter 5). Her final chapter on the gardens of Japan inevitably is not comprehensive and will disappoint the well travelled professional. This said, the coloured photographs in the book are generally very good.
It is unfortunate that the author did not have her text read by someone competent in the Japanese language. Occasionally she uses macrons, but often when really needed she leaves them out. For some Japanese words which she uses I could not identify the characters in my Kenkyusha dictionary. Her bibliography also struck me as inadequate.