The Japan Society Members' Corner is a new space for members to share their favourite memories of Japan and their involvement with the country's cultural traditions, cuisine and people.
We want to hear from you about what sparked your connection to Japan. By collecting together members' memories and favourite moments, we will document and strengthen our unique community of passionate individuals, companies and organisations committed to advancing a deep and lasting understanding between Britain and Japan, both in the present and for the future.
We would like to take this opportunity to thank both our individual and corporate members/donors for their continuous support and look forward to receiving your contributions! 
---
How to Contribute
Every two months we will present a theme around which we invite contributions from current Japan Society members. All contributions on the theme are welcome, but we encourage members to write short essays (circa. 500-1000 words) or send us brief recollections accompanied by photos, videos or any other audiovisual materials.


Members can submit their contributions to membership@japansociety.org.uk (please indicate the theme in the email subject). Deadline for submissions will be the last day of the second month, so 30 April, 30 June, 31 August, etc, but please contact us if you are a new member and/or you want to submit to past themes.


Members' contributions might be edited by the Japan Society and will be published in our website and social media with the name or alias of the author. By sending their contributions, members agree to its publication on our website and social media. 


Members' contributions must be original and belong to their authors as copyright holders. The Japan Society will not accept any

responsibility for the content published.




The Japan Society will not use any text or audiovisual material received for commercial purposes and will follow the Privacy Policy and Terms & Conditions regarding the use of data and the website content.


Members' Corner is open to contributions by current Japan Society members only, including staff from our corporate member companies. Please note that subscribing to our mailing list is not the same as being a member of the Japan Society.

To find out about the benefits of Japan Society membership and how to become a member please click

here.
Our theme in May and June is… My Japan Wishlist

Submission deadline:

Thursday 30 June 2022
---
As international travel slowly but surely resumes, our eyes are no doubt set firmly on future itineraries for Japan. Half of the fun of heading off abroad is planning all the exciting things you'll do once you get there, while photos and souvenirs can become cherished memories that ensure those places and experiences linger long after we return home.
Is there a dream location in Japan that you haven't got round to seeing yet, or perhaps there's somewhere you have fond memories of and would love to revisit? What's that can't-miss spot you'd share with a friend heading to the country for the very first time?
We want to hear from our members - all submissions on the theme are welcome, and Members who are interested in contributing should submit these to membership@japansociety.org.uk with the subject header 'Members' Corner - My Japan Wishlist'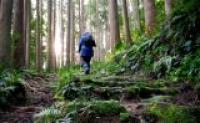 My Japan Wishlist (May-Jun)
A Japanese Pilgrimage
Mary-Grace Browning shares a thoughtful wishlist topped off by the 88-temple circuit of Shikoku