Fine, Totally Fine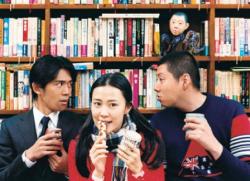 2008, 110 minutes
Review by Simon Cotterill
Opportunities to see Japanese films at the cinema are pretty few and far between in the UK, and when the chance does come around it normally means watching a samurai, yakuza, or horror movie. British cinema audiences associate Japan (and often the rest of the Far East) with wandering swordsmen, lonely gangsters, and scenes of Battle Royal/ Audition-like gore. To the outside world, modern Japanese cinema is a cinema of individuals and violence. But in reality Japanese cinema is much more than that and, thankfully, now London cinema-goers are getting more of a chance to discover this for themselves.
Besides its screening on Sunday 28th September at BAFTA "Fine, Totally, Fine" ('Zen, Zen Daijoubu') was also shown from 14th November at the Institute of Contemporary Arts. It's a brilliantly subtle comedy which centres upon a quirky bunch of eccentric characters, the likes of which many UK viewers won't have seen in a Japanese film before.
Teruo, a baby faced thirty-something played by Yoshiyoshi Arakawa, lives above a second hand bookshop with his despondent father. His father, who owns the shop seems to have given up on life since losing his wife, while Teruo, a part-time tree cutter, dreams of opening the world's best, haunted theme park. Teruo's best friend Hisanobu (Yoshinori Okada) is less of a dreamer. A handsome and gentle man, he works in administration at a hospital, where he is blind to the fact he is the centre of female attention. In his spare time Hisanobu helps Teruo create booby-traps and practice foolish 'horror' stunts, some of which fail, some of which succeed – all of which are hilarious.
Hisanobu is the kind of nice guy who can't say 'no', and one day he finds himself employing the clumsy, accident-prone Akari (Yoshino Kimura) as a cleaner at the hospital, despite the fact she arrives at the job interview bleeding and wearing torn clothes. Akari is a misfit painter, who seems uncomfortable in her own skin and has an odd fascination with a homeless woman. But despite her clear inability to do her hospital job, she manages to lure the romantic curiosity of Hisanobu, and later, once she has left her cleaning job and started work at the second hand bookshop, Teruo also decides that he is in love with her.
The love triangle between best friends Teruo and Hisanobu, and Akari is an unusual, lazy one. No one is really aware of the others' feelings, and no one really seems ready to act on their own. But as this love triangle gently moves towards its conclusion, it has its audience constantly gripped by scenes which are tender, realistic, very funny and very memorable.
Yoshiyoshi Arakawa's performance is a work of comic genius. An actor who looks like a twelve year-old trapped in a thirty year-old's body, Arakawa doesn't rely on his unusual, cartoon-like appearance for laughs. He plays Teruo as a real human being who is struggling with adulthood and is beginning to realise he must turn his childhood dreams into a reality, or risk losing his self-respect. Throughout the film Arakawa deftly draws laughter with a subtle delivery of great lines and expressions that often show an indifference to the world.
Yoshino Kimura, a popular actress and singer, who was born in London, gives an equally compelling performance as Akari. Despite her awkward appearance and her clumsiness Akari is longed for by men. She is fascinated by other people, but uncomfortable being given attention. Kimura manages to balance these contradictions perfectly and slowly draws the audience into Akari's unusual world.
"Fine, Totally Fine" is the debut film by writer-director Yosuke Fujita, a wonderful new talent, who used to work as a hospital caretaker! Fujita won the Japan Film Angel Prize for his screenplay, and the movie has also won an audience award in New York and the Nippon Connection award in Germany.
After its run at ICA, "Fine, Totally Fine" will be released on DVD in the UK. But I suggest anyone of you who has the time should get down to the cinema to see it. "Fine, Totally Fine" is one of many great comedies to have been made in Japan recently, too many of which have been overlooked for international distribution. Full houses at cinemas are the only thing likely to change programmers' and distributors' minds – and with any luck "Fine, Totally Fine" could be the first in a new line of movies that make UK audiences associate Japanese cinema with laughter as much as violence.
Review by Susan Meehan
"Fine Totally Fine" was an undiluted joy and had the BAFTA audience creased up with laughter throughout. It tells the story of Teruo, a dreamer with the ambition of building the best ever haunted house, rather than continue with his manual job. He lives with his dejected father in a flat above their second-hand bookshop.
Teruo's friend Hisanobu, works as a hospital manager and is altogether more mature. Aware that they are approaching 30, he starts to tire of Teruo's prankish ways. The sensitive and sensible Hisanobu is single, much to the disbelief of his colleagues who are ever anxious to set him up. The lovely but clumsy 'chikuwa'-loving Akari then appears on the scene. One cannot help laughing at her mishaps – her utter inability to open a box of tissues or the havoc she unleashes at the hospital where she has been employed.
Akari spends much of her time painting colourful pictures of a local bag lady, with whom she somehow identifies. Perhaps they are kindred spirits in that it is difficult or impossible for either of them to hold onto conventional jobs.
Akari in fact quits the hospital as she is simply causing too many accidents. Her life takes a romantic turn soon after she begins work at the second-hand bookshop with Teruo, and this determines the course of the rest of the film.