Sir Ernest Satow's Private Letters to W.G. Aston and F.V.Dickins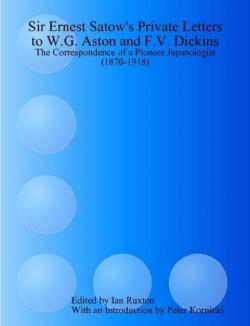 Lulu Press inc, 2007, 321 pages including index. ISBN-13: 978-1435710009. £25.50
Review by Sir Hugh Cortazzi
Students of Japanese history in the nineteenth century have reason to be grateful to Ian Ruxton for the long and hard work which he has put into transcribing and publishing the diaries and letters of Sir Ernest Satow, an outstanding scholar diplomat. This is the latest in a series of books which Professor Ruxton has produced on the basis of the writings, mostly in long-hand, of Sir Ernest Satow which are kept in the National Archives.
Ruxton's first book The Diaries and Letters of Sir Ernest Mason Satow (1843-1929) A Scholar Diplomat in East Asia was published by the Edward Mellen Press in 1998. Since then he has produced five additional volumes including the present one covering different periods in Satow's life, in particular when he was Minister in Tokyo (1895-1900) and in Peking (1900-1906). Details can be obtained from http://www.lulu.com/ianruxton. 'The Diaries of Sir Ernest Satow: British Minister in Tokyo (1895-1900)' first published in hardback in 2003, is now available in paperback and e-book (pdf) formats. A preview is available here.
These letters to Aston and Dickins, two other scholars of Japanese culture, cover a wide range of scholarly topics but also many aspects of contemporary Japanese life and politics. They contain some fascinating sidelights on personalities, including some of Satow's colleagues in the Japan Consular Service, and on other scholars such as Basil Hall Chamberlain and the art collector William Anderson. The letters also give an insight to Satow's personality including how he came to become a practising Anglican.
Despite Satow's deep interest in and knowledge of Japan, its language, history and culture, his roots were in the west and he believed western culture to be superior to that of Japan. He thought, as he explained to Dickins in a letter in 1907 that Lafcadio Hearn's style was "perfect but his [subject] matter is unconvincing," He was a realist rather than a sentimentalist in his relations with Japan. As a diplomat he had suffered too many frustrations in his dealings with Japanese officials.
Satow's life as a subordinate to Sir Harry Parkes, the British Minister in Tokyo from 1865-83 was often difficult and he was often critical in his letters of Sir Harry, especially Parkes' domineering manners, but in a letter to Dickins in 1893 Satow summed up his assessment of Parkes in the following favourable terms: "Sir Harry's life was entirely occupied by his duties as British representative. There was hardly any other side to it. He lived in and for his work, and contributed more than any other foreigner to making the history of Japan during that period. Even when the Japanese were not apparently asking his advice, they were greatly influenced by his criticisms on their proceedings. His is the most commanding figure of that period. But to present him you must describe the events amid which he moved." Parkes aroused the ire of Sir Edward Reed M.P. and of the American journalist Edward House who was paid from Japanese funds. Satow did not agree with many of their criticisms.
On treaty revision Satow, writing from Montevideo (he had been appointed Minister to Uruguay) in 1889, thought that Britain's "best policy is to be consistent, and to continue to say 'Show us first your codes'" [legal codes]. He was critical of the line taken by Brinkley [Captain Frank], and Palmer [Major General H.S. Palmer, the special correspondent of the Times at that time] who criticised British dilatoriness over Treaty revision. He described Brinkley as "Inouye Kaoru in an English dress." Satow thought that, the Germans having been willing to make concessions before the other powers, "Bismarck had played us false."