Old Japanese Photographs: Collectors' Data Guide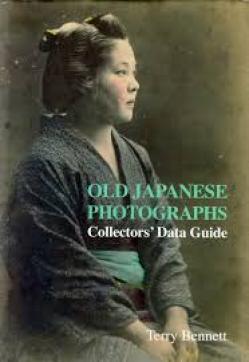 By Terry Bennett
Bernard Quarritch, 2006
ISBN-13: 978-0-9550852-4-6

Reviews by Sir Hugh Cortazzi
---
Terry Bennett is a world expert in the history of photography in Japan and has done a vast amount of original research. His two new books bring together a vast amount of information never collected before and cover in detail the western and Japanese photographers who developed the art of photography in Japan. Anyone with an interest in this fascinating aspect of Japan in the last half of the nineteenth century and the first years of the twentieth century will find these books instructive and absorbing. For collectors of old Japanese photographs they will be indispensable.
The reproductions in the first volume are excellent in definition and the colour in the hand-tinted photographs is faithful to the originals.
Early Japanese photographs are of great benefit to the historian who can see through them contemporary images of people and events instead of having to rely solely on written records. The student of Yokohama-e (prints of foreigners, their buildings and their vehicles) can find the models on which the prints are based.
In his preface to Photography in Japan Bennett explains that his aims had been to provide an up-to-date picture of research into Japanese photo-history, to provide biographical details of early photographers, to stress the importance of identifying the photographer and to provide practical research tools. No doubt further research will add to what we know about the photographers and their images but those who follow will inevitably have to refer back to Bennett's pioneering work.
In his introduction Bennett explains how photography came to Japan. In Chapter 1 he describes the first images and first cameras used in Japan and the complicated and bulky equipment then needed to take images and to develop and print them. He gives many examples of the stereo images which became popular. Chapter 2 is devoted to the first western studios but he notes that, while some of the western photographers such as Felix Beato were outstanding, a number of able Japanese photographers, such as Shimooka Renjo and Ueno Hikoma entered the photographic business and produced some very good photographs. Because of the difficulties involved in outdoor photography at the time and the need for long exposures photographs of people and of Japanese at work inevitably involved poses which sometimes seem false or wooden. But the photo by Beato of a samurai on his horse in 1867 p. 94 is realistic.
Chapter 3 is headed "1870s: Japanese Competition" but includes a number of foreign photographers. Bennett discovered the first photograph ever taken of a Japanese Emperor. This was a secretly taken photo (page 138) by Baron Raimund von Stillfried-Ratenicz of the Emperor Meiji and his entourage at Yokohama on 1 January 1872. The Japanese authorities were furious and confiscated the negative, but a print came to light at a London auction a few years ago. Perhaps as result of the clandestine photo official portraits of the Emperor and Empress were taken shortly afterwards. In the same chapter Bennett describes the first illustrated paper produced in Japan The Far East which began publication in May 1870 in Yokohama. (There is more about this journal in Collector's Data Guide).
Chapter 4 covers the 1880s which Bennett describes under the heading "Western Studios give way." Chapter 5 on the 1890s is described as "Japanese Studios dominate" and Chapter 6 on the 1900s is headed "In full control." In fact throughout the period covered by this book both Japanese and western photographers competed but also cooperated. One of the most extraordinary and eccentric of the western photographers was Adolfo Farsari (1841-98). He trained his colourists so that they "accurately reflected the actual colours in Japanese costumes, scenery and architecture." But others were equally successful as photographs of flowers by Ogawa Kazumasa (reproduced on page 212) show. This is of a Japanese lily and was produced in the 1890s.
Ogawa was also a fine photographer of people as can be seen from his masterly portrait of an old couple (page 215).
There is no doubt that early photographers in Japan were real artists as well as good technicians with the camera as the following three photos show:
Woodland scene by Enami Tamotsu, 1890s, (page 234)
Mt Fuji in snow by Elias Burton Homes, 1890s (page 357)
Walter Clutterbuck: Boats at Naha Harbour, Okinawa, 1899, (page 249)