If Cats Disappeared From The World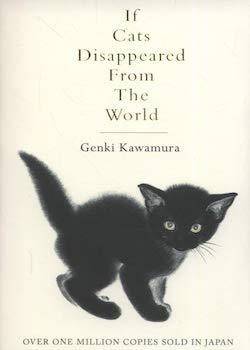 By Kawamura Genki
Translated by Eric Selland
Picador, 2018
ISBN-13: 978-1509889174
Review by Morgane Chinal-Dargent
---
Kawamura Genki is not your typical contemporary Japanese writer: he is a phenomenon. At not even 40, this man of many talents has already demonstrated his genius by writing several novels, essays and producing internationally acclaimed films such as Your Name (Kimi No Na Wa, Shinkai Makoto, 2016) or The Boy and the Beast (Bakemono No Ko, Hosoda Mamoru, 2015). More impressively, his debut novel If Cats Disappeared From The World published in 2012 has sold more than a million copies in Japan and been translated in several languages which makes it newly available in the UK and all over the world.
In If Cats Disappeared From The World, Kawamura tells the story of a postman in his thirties who discovers that his days are numbered because of a brain tumour which will cause his imminent death. Upon returning home from his doctor's appointment, our narrator finds the devil sitting on his couch in the form of his doppelgänger dressed in a Hawaiian shirt and shorts. This strange character will propose to him a simple trade-off: for each item that the young postman would be willing to make disappear from the world, he will gain one extra day of life. While the protagonist agrees to separate from objects such as clocks or movies, he finds himself truly conflicted when the devil decides to trade his life against the existence of cats. Our narrator has lead a quite lonely life since his mother's death as he lives estranged from his father and broke up with his girlfriend many years ago. Consequently, Cabbage, his cat, is the only living soul he shares his life with. From there, the young man begins to truly question his existence and the importance of the objects and customs that humankind created and takes us in his thoughtful questionings.
Behind this simple plot, this 200 pages long novel reveals a deep reflexion on life and shares an important message: the things we own sadly end up owning us. Through the eyes of a young man on the brink of death, Kawamura beautifies the meaning of life and its true purpose which is to be lived to its fullest. Throughout the week during which the story is set, the author manages to questions the alienation of our modern societies and the central place that consumption took in our lives over the will to truly experience things. When the young protagonist takes the decision to rid the world from phones, Kawamura engages a real reflexion on the place that technology took in our busy lives, a discourse even more relevant in modern Japan which is widely acknowledged as the cradle of high-tech.
Mobile phones have been around for only about twenty years, but in just that short time they've managed to take complete control over us. In just twenty short years something that we don't really need has come to rule our lives, making us believe that we can't do without it. When human beings invented the mobile phone, they also invented the anxiety of not having one. (Kawamura, 2012, 42)
This quote actually provokes the reader in questioning to which other items of our lives this could apply. The novel also explores the themes of family and love. For a young man who has to accept the fatality of his existence, the place of meaningful relationships and the regrets that arise from not cultivating it offers to the reader the opportunity to reevaluate their own lives. In other words, Kawamura tells a story of love and loss which makes the reader realise the incomparable beauty of life by confronting us to the inevitability of death.
Regarding Kawamura's stylistic approach, the novel shares a lot of its aspects with the legacy implemented by major contemporary Japanese writers. The constant oscillation between trivial daily scenes mixed with outbursts of surrealism surely reminds of Murakami Haruki's trademark when the omnipresence of cats evokes the universe of Hiraide Takashi. Moreover, the recurrence of cultural references from music to films contributes to immerse the reader into the universe of modern Japan. Eventually, Kawamura decluttered minimalistic writing style still manages to find a unique way to blend humour and philosophical reflexions which result in a poetic simplicity that the following quote appropriately exemplifies:
Love has to end. That's all. And even though everyone knows it they still fall in love. I guess it's the same with life. We all know it has to end someday, but even so we act as if we're going to live forever. Like love, life is beautiful because it has to end. (Kawamura, 2012, 72)
Eric Selland's work should also be acknowledged for managing to convey the subtleties of such style in his English translation. In the end, If Cats Disappeared From The World's tremendous success (the book was already adapted in a movie produced yet again by Kawamura himself) surely finds its roots in the truly universal message it shares with the world. The novel is a smart yet deep reflection over life, love and the capacity to let go of what is not truly necessary to give meaning to our existences. If Cats Disappeared From The World is a beautiful story that each of us should read in order to be reminded of the significance and true value of life.