Flight Paths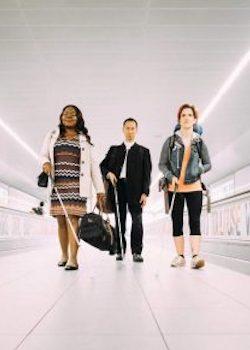 Co-directed by Maria Oshodi & Kumiko Mendl
Written by Glen Neath
UK Tour (2019)*
Review by Susan Meehan

---
Flight Paths brings together two pioneering theatre companies, Extant and Yellow Earth Theatre. Extant, the leading performing arts company and charity in the UK managed for and by visually impaired professional arts practitioners, was founded in 1997 by Artistic Director Maria Oshodi. Yellow Earth Theatre is a British East Asian (BEA) touring theatre company led by Artistic Director Kumiko Mendl and was formed in 1995 by five British East Asian (BEA) actors: Kwong Loke, Kumiko Mendl, Veronica Needa, David KS Tse and Tom Wu.
Amelia and Sarah step onto the set, a flight departure lounge. Have they arrived from Japan? They seem to know a lot about Japan and Sarah can speak some Japanese. They walk around purposefully with white canes and describe the space to each other. They are partially sighted and, it turns out, enviably supple. They are also incredibly down to earth, opinionated and funny. Aerial silks dangle from the ceiling. Each silk consists of two lengths of fabric rigged from the ceiling.
Through their story-telling, Amelia and Sarah inhabit the realm of the goze, blind female shamisen players who would travel around medieval Japan playing music and retelling epic tales.
They bring to life the Tale of the Heike, an account of the 12th century struggle between the Heike and Genji families for control of Japan. The two women also weave in the story of Hoichi, a blind biwa or lute player whose ears were ripped off, as retold by Lafcadio Hearn, another restless traveller of Greek and Irish heritage who ended up in Japan in the late 19th century.
Amelia and Sarah accompany their story-telling with acrobatics, rather than with shamisen music or singing. They deftly climb up the aerial silks, resembling Cossack dancers as they pull up their knees to gain height.

They recount their personal stories as well as those of Takashi and Victoria, blind artists from Japan and Nigeria. Takashi is a UK-based Japanese viola player. When he arrived in England his English was very limited, but he has forged a career as a free-lance viola player. His presence is captivating even though he is not physically on stage but present via film and a loud speaker disguised in a water bottle carried around and interacted with by the actors. Like Takashi, Victoria is physically absent. We hear her tucking into cake and slurping tea via a loud speaker also contained in another large water bottle. She is a deep thinker like Takashi, but more expressive – as he would be the first to acknowledge. She considers herself to be six years old – the last age at which she could see. She sings beautifully.
Sarah and Amelia develop a move called the Stratford – this is Stratford Circus Theatre after all and Amelia and Sarah are attentive performers. Like the goze, Amelia and Sarah name their art after the places to which they travel and like the goze, Sarah learns her art on the silk from Amelia through repetition and muscle memory. The fall is fast and disorientating for the performers and kept me, a mere observer, on the edge of my seat.
We suddenly hear the clash of metal and samurai. We have been thrust into Lafcadio Hearn's magical story. A samurai has come to take Hoichi to play for his master. The sea rages and the ghostly fires of the dead Heike burn all around him.
Sarah and Amelia pull themselves up on the silks, tip themselves upside down, do the splits, pull off a sideways pose, a plank, a figurehead and interpret the tearing off of Hoichi's ears. The repertoire is fast and breath-taking too. A series of shamisen jingles can be heard in the background.
Amelia and Sarah are called to board the airplane. They pick up their belongings and are off – to entertain others I hope. They have bags of energy and lots of travelling, living and sharing of stories to fulfil!
Extant and Yellow Earth Theatre have pulled off an ambitious feat, marrying acrobatics, partially sighted performers and Japanese culture.
---
(*) Flight Paths UK Tour 2019 Listings Information
Harlow Playhouse Theatre Tuesday 5 February, 7.30pm, Playhouse Square, Box Office: 01279-431945 Pay what you can. www.harlowplayhouse.co.uk
Stratford Circus, Friday 8, 7pm & Saturday 9, 2pm & 7pm February, Theatre Square, London E15 1BX Box office: 020 8279 1080 £15, £13 conc. www.stratford-circus.com
Theatr Clwyd, Friday 15 February, 7.45pm, Sat 16 February, 2.45 & 7.45pm, Raikes Lane, Mold, CH7 1YA, Box Office: 01352 701521 From £10 www.theatrclwyd.com
The Curve, Wednesday 19 & 20 February, 7.45pm, Rutland Street, Leicester, LE1 1SB Box office 0116 242 3595 From £10, www.curveonline.co.uk
The Albany, Friday 1, 7.30pm, 2 March, 2pm & 7.30pm, Douglas Way, Deptford, Box office 020 8692 4446, London SE8 4AG, www.thealbany.org.uk
The Arena Wolverhampton, Tuesday 5 March, 7.30pm, Wulfruna Street ,West Midlands, WV1 1SE Box Office 01902 321 321, £12 (£10) www.wlv.ac.uk/arena-theatre
---