Issue 81 (June 2019, Volume 14, Number 3)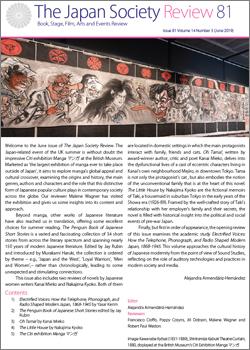 Welcome to the June issue of The Japan Society Review. The Japan-related event of the UK summer is without doubt the impressive Citi exhibition Manga マンガ at the British Museum. Marketed as 'the largest exhibition of manga ever to take place outside of Japan', it aims to explore manga's global appeal and cultural crossover, examining the origins and history, the main genres, authors and characters and the role that this distinctive form of Japanese popular culture plays in contemporary society across the globe. Our reviewer Malene Wagner has visited the exhibition and gives us some insights into its content and approach.
Beyond manga, other works of Japanese literature have also reached us in translation, offering some excellent choices for summer reading. The Penguin Book of Japanese Short Stories is a varied and fascinating collection of 34 short stories from across the literary spectrum and spanning nearly 150 years of modern Japanese literature. Edited by Jay Rubin and introduced by Murakami Haruki, the collection is ordered by theme – e.g., 'Japan and the West', 'Loyal Warriors', 'Men and Women',– rather than chronologically, leading to some unexpected and stimulating connections.
This issue also includes two reviews of novels by Japanese women writers Kanai Mieko and Nakajima Kyoko. Both of them are located in domestic settings in which the main protagonists interact with family, friends and cats. Oh Tama!, written by award-winner author, critic and poet Kanai Mieko, delves into the dysfunctional lives of a cast of eccentric characters living in Kanai's own neighbourhood Mejiro, in downtown Tokyo. Tama is not only the protagonist's cat , but also embodies the notion of the unconventional family that is at the heart of this novel.
The Little House by Nakajima Kyoko are the fictional memoirs of Taki, a housemaid in suburban Tokyo in the early years of the Showa era (1926-89). Framed by the well-crafted story of Taki's relationship with her employer's family and their secrets, the novel is filled with historical insight into the political and social events of pre-war Japan.
Finally, but first in order of appearance, the opening review of this issue examines the academic study Electrified Voices: How the Telephone, Phonograph, and Radio Shaped Modern Japan, 1868-1945. This volume approaches the cultural history of Japanese modernity from the point of view of Sound Studies, reflecting on the role of auditory technologies and practices in modern society and media.
---
Contents
Contributors
Editor
Alejandra Armendáriz-Hernández
Reviewers
Francesco Cioffo, Poppy Cosyns, Jill Dobson, Malene Wagner and Robert Paul Weston