Issue 84 (December 2019, Volume 14, Number 6)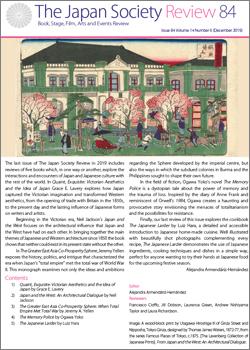 The last issue of The Japan Society Review in 2019 includes reviews of five books which, in one way or another, explore the interactions and encounters of Japan and Japanese culture with the rest of the world. In Quaint, Exquisite: Victorian Aesthetics and the Idea of Japan Grace E. Lavery explores how Japan captured the Victorian imagination and transformed Western aesthetics, from the opening of trade with Britain in the 1850s, to the present day and the lasting influence of Japanese forms on writers and artists.
Beginning in the Victorian era, Neil Jackson's Japan and the West focuses on the architectural influence that Japan and the West have had on each other. In bringing together the main themes of Japanese and Western architecture since 1850 the book shows that neither could exist in its present state without the other.
In The Greater East Asia Co-Prosperity Sphere, Jeremy Yellen exposes the history, politics, and intrigue that characterized the era when Japan's "total empire" met the total war of World War II. This monograph examines not only the ideas and ambitions regarding the Sphere developed by the imperial centre, but also the ways in which the subdued colonies in Burma and the Philippines sought to shape their own future.
In the field of fiction, Ogawa Yoko's novel The Memory Police is a dystopian tale about the power of memory and the trauma of loss. Inspired by the diary of Anne Frank and reminiscent of Orwell's 1984, Ogawa creates a haunting and provocative story envisioning the menaces of totalitarianism and the possibilities for resistance.
Finally, our last review of this issue explores the cookbook
The Japanese Larder
by Luiz Hara, a detailed and accessible introduction to Japanese home-made cuisine. Well illustrated with beautifully shot photographs complementing every recipe, The Japanese Larder demonstrates the use of Japanese ingredients, cooking techniques and dishes in a simple way, perfect for anyone wanting to try their hands at Japanese food for the upcoming festive season.
---
Contents
Contributors
Editor
Alejandra Armendariz-Hernandez
Reviewers
Francesco Cioffo, Jill Dobson, Laurence Green, Andrew Nishiyama Taylor and Laura Richardson