Grave of the Fireflies (BFI Film Classics)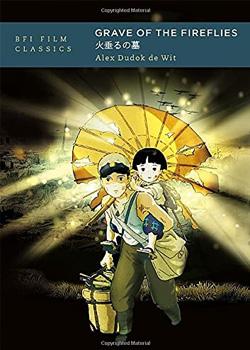 By Alex Dudok de Wit

British Film Institute / Bloomsbury (2021)
ISBN-13: 978-1838719241
Review by Laurence Green
---
Based on the 1967 semi-autobiographical novel by Nosaka Akiyuki and recounting the heartbreaking struggles of two young children in Second World War-era Japan and the fire-bombing of Kobe, Studio Ghibli's Grave of the Fireflies will need little introduction to those familiar with the studio's internationally beloved oeuvre. As an iconic pinnacle of both the anime medium, war cinema, and - by any measure - one of the singularly most emotionally moving films of all time, the movie stands as director Takahata Isao's masterpiece. And yet, our understanding of the 'how' and 'why' this film has become a cinematic classic can achieve a much deeper richness. This new book by writer and journalist Alex Dudok de Wit is part of a wider series of BFI companion volumes seeking to interrogate the argument for the 'classic' status of Graves of Fireflies by stopping, pausing and considering for a moment..
This opportunity for reflection is echoed to a great degree by Takahata's own directorial feelings of frustration about the reception of Grave of the Fireflies. As Dudok de Wit notes, 'no director has a monopoly on their film's meaning and all viewers legitimately form their own interpretation' (p. 15). However, it is precisely this dynamic between meaning and interpretation that lies at the heart of the discourse covered in this volume: between the movie's capacity to reduce audiences to tears through its sentimentality, and Takahata's goal for the film to open up a space for a more profound kind of self-reflection amongst the contemporary Japanese audiences who he felt were losing touch with the conflicted memories of the wartime period. Grave of the Fireflies' release in 1988 would be significant in its own right, coming at the very end of the Showa era (1926–1989) - the Emperor, who was already in ill health, would die in 1989. The film, which was released in a tonaly juxtaposed double bill with the cheery My Neighbour Totoro, was marketed under the joint tagline 'We've come to return what you lost' - in essence, historical slices of the Showa era that had carried Japan through both the war itself, its subsequent aftermath, and the nation's re-building of itself into the second-largest economy in the world. Moments in time, offered up for the audience's consideration in the face of their erasure within the unceasing march toward modernity.
Dudok de Wit's decision to frame his account of the film within the wider social history of post-war Japan is a wise one, and throughout this slim volume - only around 100 pages in length - genuine scholarly rigour is applied to both the film and its genesis, picking away at the received image and history we might already have of both the film and its creators. This kind of pocket-sized guide could have so easily just reproduced bare-bones plot summaries, acclaim and accolades. Therefore, it is testament to Dudok de Wit's research and skill in bringing so many thematic strands together that, at every stage, the film is placed as part of something larger; whether that be Japan's post-war memory, the intersection of the country's publishing and film industries, or the individual roles of creative staff within an animation studio.
While the central section of the book does indeed centre around a detailed play-by-play of the film's plot, it is tempered by an artful eye to detail in terms of filmic analysis. The mise-en-scène, the cinematic frame, colour palette, specificity over shot and cut selection - all are given due diligence alongside an impressive selection of full colour stills from the movie itself. This approach not only has clear value for the film studies students and scholars at which this book is squarely aimed, but ensures that we, as viewers and readers, are given the added value of a functional interpretation as this overview runs through the film's narrative beats, and not simply a textual "novelisation" of what we already know.
The book's final third returns us to a broader analysis of the film's reception, and calls up interesting distinctions between its 'quasi-arthouse' branding outside of Japan, and it's status as a piece of primetime entertainment within the country itself, screened regularly on television and in schools. Dudok de Wit also keenly reminds us that it was as recently as 2004 - only after the immense success of Spirited Away - that Grave of the Fireflies was finally released on home video in the UK. This stands as an important reminder of how much access and distribution continues to dictate conceptions of the 'filmic cannon' in the public consciousness, particularly in regards to what we term "world cinema"'.
The book's assertion that Grave of the Fireflies remains little analysed outside of Japan is certainly true, especially in comparison to the monolithic status of the Studio Ghibli films directed by Hayao Miyazaki, such as the aforementioned Spirited Away, or Princess Mononoke. However, we might counter that critical treatments of Ghibli and its output continue to dominate the field of anime studies; not perhaps at the expense of other directors, studios or films, but certainly lending a certain bias to the continued "filling in" of the English language discourse around Japan's cinematic history. Much of this is, of course, a self fulfilling prophecy - Ghibli's outsize status within the wider public's conception of both Japanese and world cinemas means they will always receive a critical eye above and beyond others.
With that in mind, I have to confess that Grave of the Fireflies has never been one of my favourite Ghibli films. While a first time viewing of the film has immense capacity to shock and surprise - chiefly due to the fact its realist subject matter diverges so profoundly from the bulk of the studio's output - I have found repeat viewings difficult because the movie's immense, irrepressible sorrow comes to dominate every single other aspect of it. In this respect, Dudok de Wit is quite right in his analysis to focus, from the off, on the significance of the film as more than just a sum of its incredible sadness or ability to subvert audience expectations of animation - and his study is all the more intelligent for this.
As this short guide comes to a close, we are left with a melancholy aftertaste; reading of Takahata's own ardent pacifist activism following the film's initial release, cast against Japan's increasing nationalism under the Abe administration. With the war generation gradually passing away - Nosaka dying in 2015, Takahata in 2018 - the cultural stewardship of war memory now holds even more importance than ever. Takahata himself, speaking in 2004, was well aware of how the sentimentality of his film regretfully seemed to have obscured its real message, taking on a life of its own, beyond his control: 'The power of a film to move audiences will always overwhelm its capacity to awaken reason and good sense' (p. 94). Years on from its original release in the late 1980s, Grave of the Fireflies' status as a valued object within Japanese cinematic history is inarguable, but also continually ripe for re-appraisal. To this end, for readers to now have access to this detailed, well-written and richly illustrated companion guide to the film is without doubt a boon to both future generations of moviegoers and scholars of animation - thought provoking in all the right ways.