37 Seconds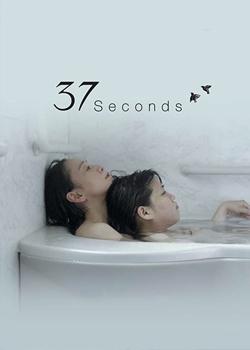 Written and directed by Hikari
Cast:
Kayama

Me, Kanno

Misuzu, Daitoh Shunsuke, Watanabe Makiko, Kumashino Yoshihiko


Official website (2019) - Available on Netflix
Review by Jenni Schofield
---
37 Seconds is a 2019 film directed and written by Hikari which explores the coming-of-age story of Yuma, a woman with cerebral palsy, and her quest to become more independent from her overbearing mother. The film examines her search for "freedom", in her own words, through love, loss, and internalised ableism.
Takada Yuma, the protagonist, is unfulfilled and unhappy with her life. Her childhood best friend Sayaka takes credit for her artwork and shares less than half of the earnings, forcing Yuma to remain a secret ghost-writer while Sayaka claims the fame and fortune. As a result, Yuma decides to look for work elsewhere, and submits samples of her work to a publisher which specialises in erotic manga. The contact she meets with at the publisher tells her that her work is exceptional, but that the sex scenes she has written are not believable. The publisher tells Yuma that if she has sex, she should contact her again, as experience is all she lacks in writing credible sex scenes. Yuma decides to hire a sex worker, but the sex worker leaves after she has an episode of incontinence. As she attempts to leave the hotel, the elevator is broken, and while trying to get help, Yuma meets Kuma, a fellow wheelchair user, sex worker Mai, and carer Toshi. The rest of the film follows the sexual and spiritual awakening of Yuma, as she opens herself up to new experiences, drinking in drag bars, going to nightclubs, buying sex toys, and getting makeovers with Mai.
The way Yuma is treated by her new friends is a stark contrast to the way she is treated at home by her mother. Yuma's mother is extremely overprotective of her, and actively infantilises her at every opportunity, from stripping her naked to bathe together, to walking her to the bus stop and waving at the bus as it pulls away. Once Yuma attempts to escape the binds of her mother, she is punished by being physically locked in the house, echoing the all-too-frequent abuse that disabled people face from their families.[1] Her newfound friends, however, treat her as an independent adult, capable of making her own decisions, choosing her own clothes, and working hard to achieve her dreams. They believe in her abilities and are even willing to support her growth with their own money.
Nudity is a useful framing device for the evolution Yuma undergoes in the film, encapsulating her journey into adulthood. At first, she is an infant, innocent in her nudity, forced to bathe with her mother and lean against her for support, much like how one bathes with a very young baby. As the story progresses, Yuma explores her own sexuality and desires by watching herself in a mirror while masturbating, still fully clothed, shy, and not entirely comfortable in her own skin. During her experience with the sex worker, he slowly peels back her clothes, framing her sexual form for her. Throughout the film, the audience watch as Yuma becomes more at home in her own skin, coming to terms with her body as a woman, and as a disabled person. Yuma wears the clothes she wants to wear, does her own makeup how she likes, and has gained bodily autonomy, without being dressed physically, or framed cinematically, by others.
Ordinarily, cinema featuring sexuality and disability in tandem play off the very real struggles of disabled folks as comedy, with the fact that a person with a disability is trying to have sex being the entire punchline and source of humour. 37 Seconds takes a vastly different approach, choosing to instead take the audience on Yuma's journey with her, sharing in her emotions and experiencing the world through her eyes, through her embarrassment and her eventual joy. The grounded and authentic feel of the film are created in part due to the casting choices that the director made. Kayama Mei, who plays Yuma, is also a wheelchair user herself, as well as sharing a diagnosis of cerebral palsy with the character. The world of cinema internationally often casts non-disabled actors as disabled characters, robbing disabled actors of the chance to tell their own stories, in most cases reinforcing harmful stereotypes in the process. By casting real wheelchair users in 37 Seconds, Hikari allows disabled folks to discuss the real issues that affect them, describing and portraying their own experiences as though re-enacting them for the audience on screen.
The man Yuma meets in the hotel, Kuma, is also played by a wheelchair user with cerebral palsy, Kumashino Yoshihiko. Kumashino is the CEO of an organisation called NPO Noir, which campaigns for the sexual rights of disabled people by increasing awareness of the fact that the sexuality of disabled people is so often overlooked by medical professionals, carers, and those in the sex industry, not to mention their friends and family.[2] In part, this is due to the portrayal of disabled people at involuntarily celibate, sterile, and incapable of having or enjoying sex, as well as an inaccurate depiction of disabled people as childlike, or infantile. Kumashino's organisation show that all of this is far from the case, and that there is a greater need for the sexual needs and desires of people with disabilities to be understood and acknowledged. 37 Seconds feels like an extension of that idea, telling the story of one lady and her struggle to be seen as an adult capable of both sexual desires, and of being desired.
In one heart-breaking scene, we see Yuma attempt online dating, where she is wholly unsuccessful. During one promising date, Yuma asks the man if he could see himself dating "someone like her", and after he reassures her that he could, in fact, be attracted to her, he then does not show up for their second date at a cinema and does not answer her calls. By the end of the film, Yuma has acknowledged that she is "worthy" of being loved, and that she will eventually find someone who likes her as she is. Her relationships with Toshi and Mai are examples of that fact, proving to Yuma that people can see past her disability to the real her, whilst acknowledging and supporting her through any difficulties her disability causes along the way.
37 Seconds is a heartfelt exploration of the reality of being disabled; a reality which is seldom explored outside of comedy. Most, if not all, disabled people have had to tackle their own self-image and self-worth, while navigating the world of dating and sex. The difficulty that Yuma has reconciling all of this by herself displays a clear need for better education surrounding both sex and disability and demonstrates the necessity of visible disabled people in popular media, to provide a hopeful and positive role model for younger disabled folks. With films like 37 Seconds starting the conversation, we can only hope that the future will see more inclusion and support for disabled people.
---
[1] To read more about the abuse disabled people face, see Karen Roy (2021), Domestic Abuse and People with Disabilities, Numotion, blog post.
[2] For more information on NPO Noir, check out their Twitter page @nponoir.