Japan Activity Chest
Subject: Other Topics
Level: Key Stage 1 / Key Stage 2 / Key Stage 3 / GCSE+
Age: 5-7 years / 7-11 years / 11-15 years / 15+ years
Resource Type: Activities / Loan Resources / Other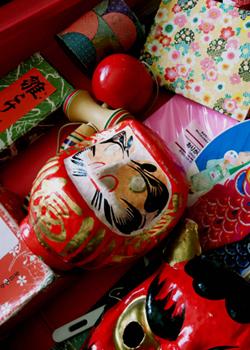 Traditional and modern aspects of Japan are brought to life with this chest of over 50 authentic Japanese artefacts.
It comes equipped with objects such as yukata (cotton kimono), geta (wooden sandals), plastic sushi, a daruma doll, calligraphy materials, origami paper, maps and posters, traditional toys and cultural items, books and magazines, music CD, postcards and photo panels.
Perhaps most useful of all, the Activity Chest comes with teacher resource packs and full Teachers' Notes explaining what the objects are.
Loan Resources
The Japan Society has a range of loan resources to support teaching about Japan in the classroom including our popular Japan Activity Chest.
Loan is free of charge for schools and educational institutions; however, the borrow will be liable for the postage costs. The precise cost will depend on the weight of the resources borrowed. A majority of our loan resources can be borrowed for up to 5 weeks or a half-term period but conditions may vary.