We want to hear what sparked your connection to Japan! The Japan Society Members' Corner is a space for members to share their favourite memories of Japan and their involvement with the country's cultural traditions, cuisine and people. 
By collecting together members' memories and favourite moments, we will document and strengthen our unique community of passionate individuals, companies and organisations. 
We would like to take this opportunity to thank both our individual and corporate members/donors for their continuous support and look forward to receiving your contributions! 
---
How to Contribute
Every two/three months we will present a theme around which we invite contributions from current Japan Society 

members

. All contributions on the theme are welcome, it can be a short essay (English or Japanese), or simply brief recollections accompanied by photos or videos.  



Members

 can submit their contributions to 

members

hip@japansociety.org.uk (please indicate the theme in the email subject). Deadline for submissions will be the last day of the final month for that theme, but please contact us if you are a new member and/or you want to submit to past themes. 



Members

' contributions might be edited by The Japan Society and will be published in our website and social media with the name or alias of the author. By sending their contributions, 

members

 agree to its publication on our website and social media.  



Members

' contributions must be original and belong to their authors as copyright holders. The Japan Society will not accept any responsibility for the content published.  


The Japan Society will not use any text or audiovisual material received for commercial purposes and will follow the Privacy Policy and Terms & Conditions regarding the use of data and the website content.


Members' Corner is open to contributions by current Japan Society members only, including staff from our corporate member companies. Please note that subscribing to our mailing list is not the same as being a member of the Japan Society.

To find out about the benefits of The Japan Society membership and how to become a member please click

here.
Our theme for July to September is…
For the Love of Japanese Food




Submission deadline:

Thursday 31 August 2023
---
"If I had to eat only in one city for the rest of my life, Tokyo would be it." - Anthony Bourdain
Japan Society members are no doubt familiar with the wonders of Japanese food in Tokyo and beyond! Sushi, ramen, kaiseki cuisine, even matcha latte or fluffy shokupan – it appears in all corners of the world; but what's the thing you crave the most when you think about food in Japan, or even Japanese food in the UK?
Is there a recipe you make over and over, or something you always order at a Japanese restaurant? Maybe you're Japanese and miss certain ingredients that you just can't find here in the UK? There might be a particular flavour or texture you seek when in need of a Japanese-food-fix, or something you must have when you go back to Japan for a visit. We want to hear from you! All submissions are welcome.
Members who are interested in contributing should submit these to membership@japansociety.org.uk with the subject header 'Member's Corner – 'For the Love of Japanese Food'.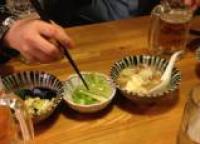 For the Love of Japanese Food (Jul-Sep)
Sharing Food
Ale remembers her nights sharing food and drinks with friends in Japan.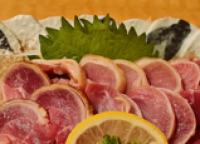 For the Love of Japanese Food (Jul-Sep)
Chicken Sashimi in Kagoshima
Alice shares an interesting dish she tried at an izakaya in Kagoshima.