Thursday 16 September 2021
Yuru-Chara Mascot Design Contest - Winners



After a year of waiting with bated breath, Team GB and Paralympics GB were finally able to travel to Tokyo to compete in the Olympic and Paralympic Games this July and August. After a thrilling summer of sport, the teams brought home a total of 189 medals!
To celebrate the Games, the Japan Society Education Team launched the first ever Yuru-Chara Design Contest, inviting everyone of all ages to create Yuru-Chara inspired mascots to cheer on GB athletes. Entrants were asked to design a mascot to represent their chosen area and favourite Olympic or Paralympic sport for the chance to win prizes.
To see all the entries, check out the mascot gallery and mascot location map!
---
Contest Results
We were thrilled to receive entries from children and adults from across the UK, spanning from Cornwall to Orkney, and were blown away by all the impressive and thoughtful designs! The Japan Society would like to thank everyone who took part for their wonderful entries and hope that you enjoyed designing them.
Choosing the winners was extremely difficult, however, after much careful deliberation, we are delighted to announce the results!
See below for the winners in both the under 16s and 16 and over categories.
Under 16s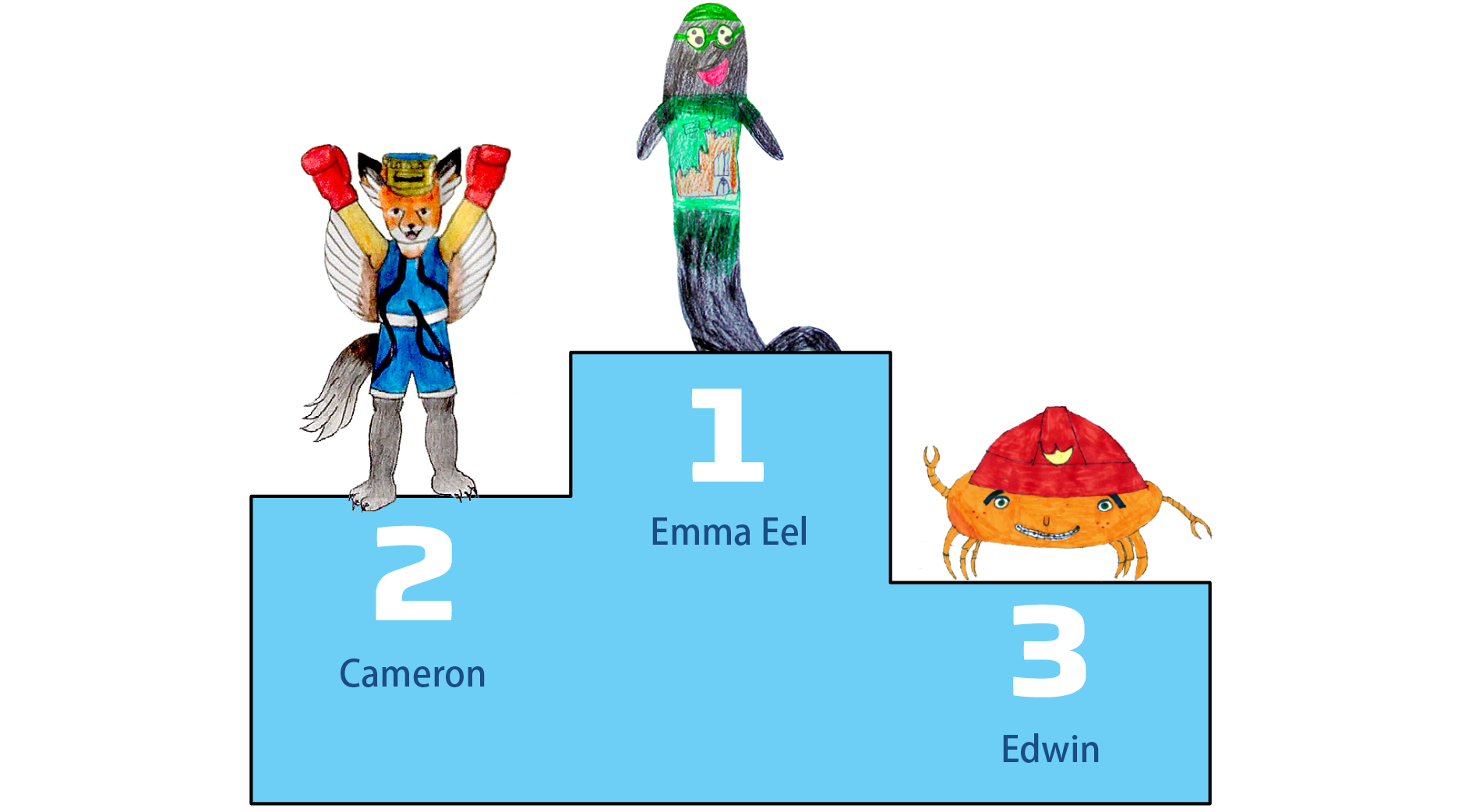 Emma Eel from Ely loves all watersports in the Olympics and Paralympics. She enjoys synchronised swimming with her friends in the little Ouse. She is friendly, brave, and doesn't mind cold water! She also likes the view of Ely Cathedral (the "ship of the fens") from where she swims.

Designed by Jasmine Wales




Cameron from Enfield is based on the mythological heraldic creature of Enfield, part fox, greyhound, eagle, lion and wolf. His gold post box hat honours Enfield's own Charlotte Dujardin who won GB's first Olympic gold for dressage, and the outlines of Enfield's River Loop and millennium fountain sundial decorate his outfit.


Edwin from Whitstable is a brave and curious crab who lives on the beach. He is named after Edwin George Lane, the first person to spot the Great Fire of Whitstable in 1869 and he wears a fireman's helmet! His favourite Olympic sport is running (but he runs sideways because he's a crab!)

Designed by Isaac Shearman
---
16 and over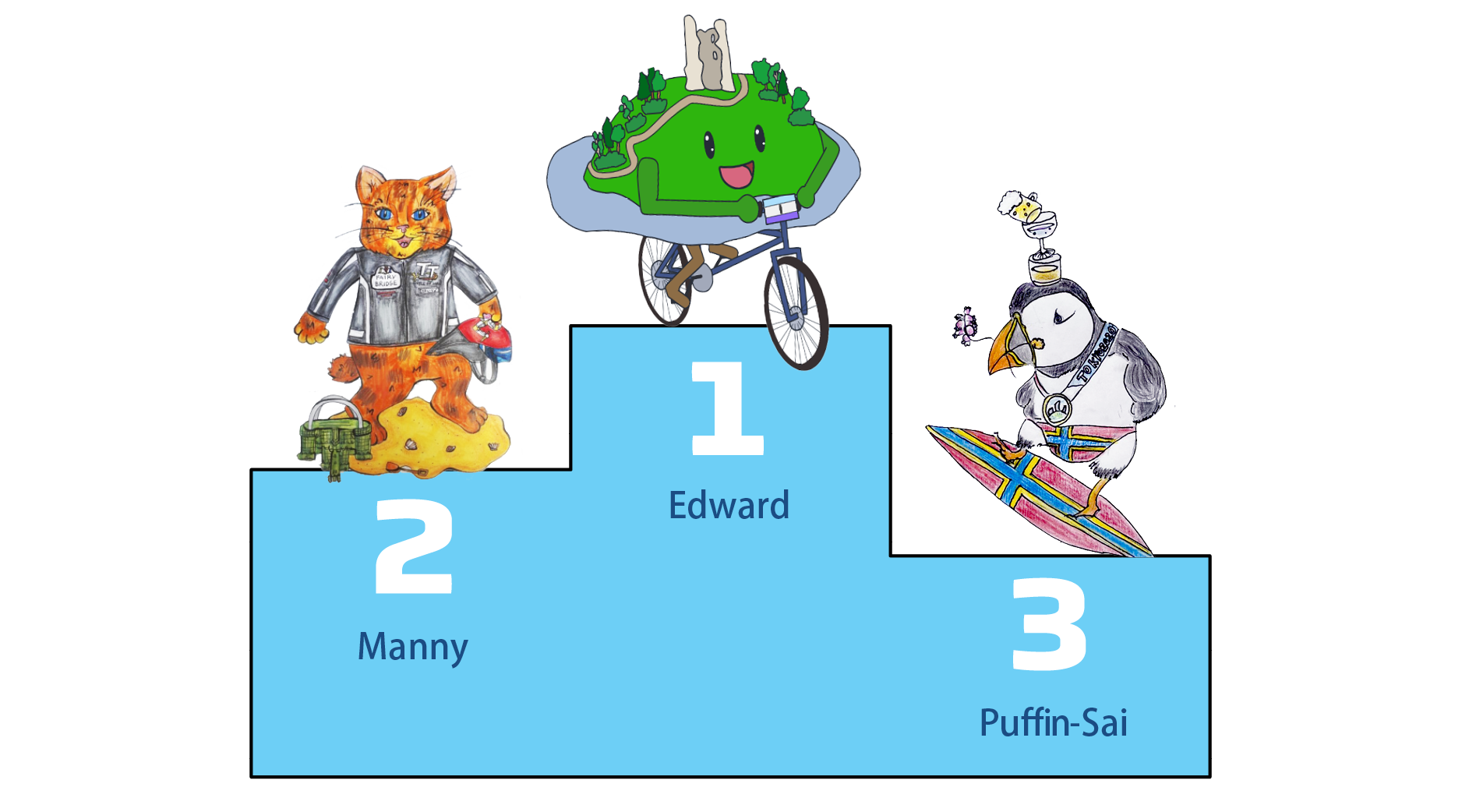 Edward from Hadleigh enjoys bike races and loves to learn about history. Edward is named after King Edward III, the first king to see the strategic importance of Hadleigh Castle. The London 2012 Olympics came to Hadleigh for the mountain Biking competition. Designed by Alix Hatton


Manny from the Isle of Man enjoys going to the Fairy Bridge, watching the TT motorbike races, playing on the beach making sand castles, and seeing the Tower of Refuge which looks like a giant sand castle in the sea. As he is a Manx cat it means he has no tail so he plays para cycling as it's the closest sport to motorcycling. Designed by Rowan Shepherd


Puffin-Sai from Orkney is a friendly "clown of the sea". Puffin-Sai's swim shorts and surfboard display the Orkney flag. The gold medal represents the Ring of Brodgar and Orkney heather, gin, whisky and beer are also on hand! Designed by Megumi Barrington
---
>> go to mascot gallery
>> go to mascot location map