The History of Anglo-Japanese Relations, 1600-2000 - Vol. I: The Political-Diplomatic Dimension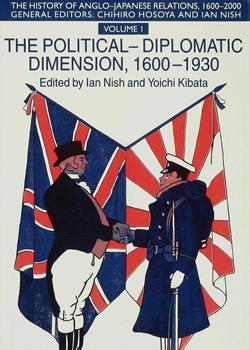 Edited by Ian Nish and Yoichi Kibata
Palgrave Macmillan (2000)
ISBN-10: 0-3337538-7-9
---
The Political-Diplomatic Dimension, 1600-1930 comprehensively covers the history of relations between Japan and Britain from the earliest commercial contacts at the start of the seventeenth century to developed diplomacy in 1930.
Edited and compiled by Ian Nish and Yoichi Kibata – both scholars of Japanese History – this book contains ten chapters by scholars addressing the vital events and issues surrounding the relationship between the two countries.
Sections include, 'The Opening of Japan and the Meiji Restoration, 1837-72' written by Kato Yuzo (former president of Yokohama City University) and 'The Era of Unequal Treaties, 1858-99' by James Hoare (formerly of the Foreign and Commonwealth Office).
This book is suitable for students of Japanese history as well as the general reader.

---
Shopping Info
P&P not included. Postage price will be updated when delivery details are entered.
Postage Rates
Pick-up directly from Japan Society office (members only): Free
£2.50 to UK addresses (second class)
£4.00 to Europe (standard delivery)
£7.00 Worldwide e.g. Japan, USA, Australia (standard delivery)
---
| | | |
| --- | --- | --- |
| Member First Copy | £20.00 | |
| Member Subsequent Copy | £60.00 | |
| Non-member Price | £60.00 | |