Britain and the 'Re-opening' of Japan: The Treaty of Yedo of 1858 and the Elgin Mission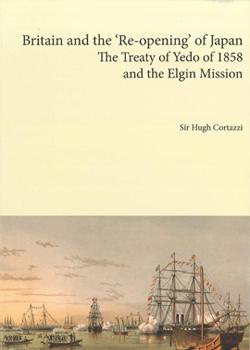 By Sir Hugh Cortazzi
The Japan Society (2008)
ISBN-13: 9780955997709
---
The Treaty of Yedo, signed by Lord Elgin and the representatives of the Tokugawa shogunate, stands as one of the hallmarks of the long relationship between Japan and Britain.
Occurring at a time of great diplomatic and economic dynamism, the treaty presented the two countries with unprecedented levels of mutual communication and trade.
The treaty guaranteed that henceforth a representative of the British government would be permitted to reside in the city of Yedo (Edo) an
Within this book, supplemented with over 20 pages of beautifully coloured plates, former ambassador to Japan, Sir Hugh Cortazzi, documents the journey made by Lord Elgin in commencing negotiations and paving the way to improved Anglo-Japanese relations that the ports of Hakodate, Kanagawa and Nagasaki be open to British commerce.
Although it has been contested that this act was tantamount to colonialism, it is irrefutable that the event was anything but central in the history of Anglo-Japanese relations.
---
Shopping Info
P&P not included. Postage price will be updated when delivery details are entered.
Postage Rates
Pick-up directly from Japan Society office (members only): Free
£2.50 to UK addresses (second class)
£4.50 to Europe (standard delivery)
£8.50 Worldwide e.g. Japan, USA, Australia (standard delivery)
---
| | | |
| --- | --- | --- |
| Member First Copy | Free | |
| Member Subsequent Copy | £5.00 | |
| Non-member Price | £15.00 | |