Britain and Japan: Biographical Portraits - Vol. V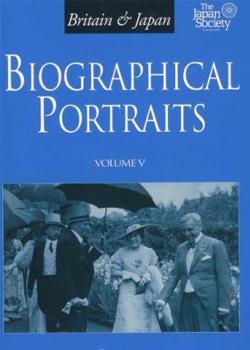 Edited by Sir Hugh Cortazzi
The Japan Society and Global Oriental Publishing (2004)
ISBN-10: 1901903486
---
This fifth volume of portraits includes over forty British and Japanese personalities in a wide range of careers and activities whose lives and achievements in Japan and Britain are worthy of record.
Compiled by former chairman of the Japan Society Sir Hugh Cortazzi, and written by distinguished scholars and researchers from both Japan and Britain, this volume is divided into six themes: The Japan Society and Imperial Personalities, Politicians and Diplomats, Naval Officers, Businessmen, Poets, Scholars and Journalists.
As testament to the diversity of written material, the final section, entitled 'Long-Term Residents in Japan, Judo Pioneers and a Philanthropist', documents individuals as varied as Samuel Heaslett, missionary and bishop in Japan as well as Dr. Thomas Baty, former legal advisor to the Japanese foreign ministry.
Like previous editions, this book holds equal interest for researchers and students of Japanese history, as well as the general reader.
---
Shopping Info
P&P not included. Postage price will be updated when delivery details are entered.
Postage Rates
Pick-up directly from Japan Society office (members only): Free
£2.50 to UK addresses (second class)
£4.50 to Europe (standard delivery)
£8.50 Worldwide e.g. Japan, USA, Australia (standard delivery)
---
| | | |
| --- | --- | --- |
| Member First Copy | Free | |
| Member Subsequent Copy | £12.00 | |
| Non-member Price | £45.00 | |