Britain and Japan: Biographical Portraits - Vol. IX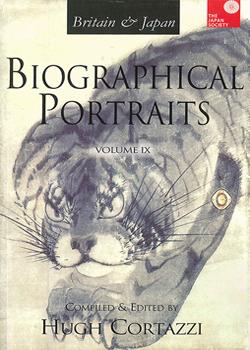 Edited by Sir Hugh Cortazzi

The Japan Society and Renaissance Books

(2015)
ISBN-13: 9781898823162
---
This book forms part of a series recording the lives of men, women and institutions who have played a significant role in the development of UK-Japan relations. The current volume, which contains 57 'portraits', brings the Japan Society's collection of individual memoirs to a cumulative total of nearly 500. When read together these give a many-faceted picture of modern history, shedding light on controversial issues, illuminating past successes and failures, and providing a valuable point of reference for researchers and historians.
Structured thematically in four Parts – Japan in Britain, Britain in Japan, Scholars and Writers, Politicians and Officials – the highlights in this volume include 'The Great Japan Exhibition, 1981-82', 'Japanese Gardens and the Japanese Garden Society in the UK', 'Cricket in Late Edo and Meiji Japan', 'Norman Macrae, pioneering journalist of The Economist', 'Arthur Balfour – managing the emergence of Japan as a Great Power', 'Michio Morishima, an economist 'made in Japan'', and 'Margaret Thatcher – a pragmatist who radically improved Britain's image in Japan'.
---
Shopping Info
P&P not included. Postage price will be updated when delivery details are entered.
Postage Rates
Pick-up directly from Japan Society office (members only): Free
£2.50 to UK addresses (second class)
£4.50 to Europe (standard delivery)
£8.50 Worldwide e.g. Japan, USA, Australia (standard delivery)
---
| | | |
| --- | --- | --- |
| Member First Copy | Free | |
| Member Subsequent Copy | £12.00 | |
| Non-member Price | £45.00 | |