The Growing Power of Japan, 1967-1972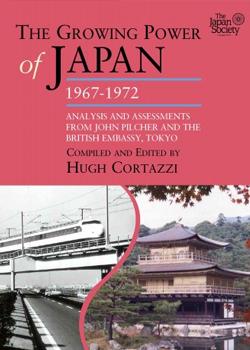 Edited by Sir Hugh Cortazzi

The Japan Society and Renaissance Books

(2014)
ISBN-13: 9781898823063
---
In this volume Sir Hugh Cortazzi has compiled the defining reports from Sir John Pilcher's time as ambassador to Japan from 1967 to '72, a period in which Japan's economy and power grew significantly and her relations with the United States became increasingly strained.
This collection of Pilcher's reports to Whitehall provides a valuable record of Japan's progress at this turning point in her post-war history, as well as insights into the hopes and expectations of the British government in her dealings with Japan. Pilcher's role during this period was that of bridge-builder between the two countries following the post-war decades of disenchantment and distrust.
Pilcher's reports were not only unusually comprehensive but were characterised by his natural sympathy for the country and deep knowledge of its culture and religion. His writings on Japan have remained largely inaccessible, and unknown to most researchers, and The Growing Power of Japan offers readers a unique insight into the thoughts of this distinguished scholar-diplomat.
---
Shopping Info
P&P not included. Postage price will be updated when delivery details are entered.
Postage Rates
Pick-up directly from Japan Society office (members only): Free
£2.50 to UK addresses (second class)
£4.50 to Europe (standard delivery)
£8.50 Worldwide e.g. Japan, USA, Australia (standard delivery)
---
| | | |
| --- | --- | --- |
| Member First Copy | Free | |
| Member Subsequent Copy | £12.00 | |
| Non-member Price | £45.00 | |