The Thames And I: A Memoir of Two Years at Oxford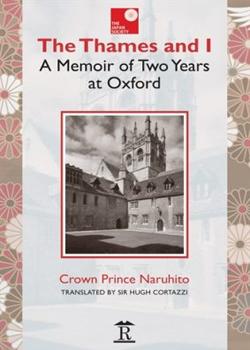 By Prince Naruhito, Crown Prince of Japan
Translated by Sir Hugh Cortazzi

The Japan Society and Renaissance Books

(2019)
ISBN-13: 9781898823988

---
Translated by the late Sir Hugh Cortazzi and first published in hardback in 2006, this reprint in softback is published to mark the ascendancy to the imperial throne of Japan of Crown Prince Naruhito in 2019.
Prior to becoming Crown Prince of Japan in 1989, following the death of his grandfather Emperor Showa, Prince Naruhito studied at Merton College, Oxford, from June 1983 to October 1985. His research topic was the River Thames as a commercial highway in the eighteenth century. This marked the first time that anyone in direct succession to the throne had ever studied outside Japan.
In 1993, he published a record of his time at Oxford under the title Thames to tomo ni . The memoir, which includes a colour plate section incorporating photographs taken by the Prince, explores his daily life, studies and recreational experiences, including discovering beer and being banned from entering a disco because he was wearing jeans.
The Thames and I is a remarkable record, not least because of its candour, but equally because it reveals the Crown Prince as an individual, including his personal charm and sense of humour. It will be of special interest to those wishing to know more about the new emperor of Japan.
Thanks to the generous donation by Sir Hugh Cortazzi, Japan Society is able to offer free copies to members and a special discounted price to non-members while stocks last.
---
Shopping Info
P&P not included. Postage price will be updated when delivery details are entered.
Postage Rates
Pick-up directly from Japan Society office (members only): Free
£2.50 to UK addresses (second class)
£4.50 to Europe (standard delivery)
£8.50 Worldwide e.g. Japan, USA, Australia (standard delivery)
---
| | | |
| --- | --- | --- |
| Member First Copy | Free | |
| Member Subsequent Copy | £5.00 | |
| Non-member Price | £10.00 | |