British Royal and Japanese Imperial Relations, 1868-2018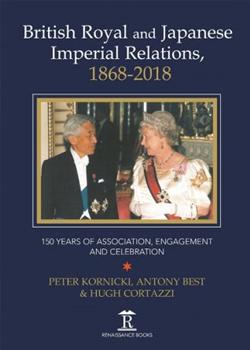 Edited by Peter Kornicki, Antony Best and Sir Hugh Cortazzi

The Japan Society and Renaissance Books

(2019)
ISBN-13: 9781898823865

---
This new study examines the history of the relations between the British and Japanese monarchies over the past 150 years. Complemented by a significant plate section, with many rarely seen historical photographs and illustrations, together with supporting chronologies, British Royal and Japanese Imperial Relations, 1868-2018 will become a benchmark reference on the subject.
The volume is divided into three sections. Part I, by Peter Kornicki, examines the 'royals and imperials' history during the Meiji era; Part II, by Antony Best, examines the first half of the twentieth century; Part III, by Sir Hugh Cortazzi (Ambassador to Japan 1980-1984), focuses on the post-war history up to the present day.
Published in association with the Japan Society, its appearance marks the abdication of Emperor Akihito and the enthronement of Crown Prince Naruhito in April 2019.
It is also a memorial volume to the late Sir Hugh Cortazzi who died in August 2018, shortly after completing his own contribution to the volume. It was to be the final project of his literary legacy.
---
Shopping Info
P&P not included. Postage price will be updated when delivery details are entered.
Postage Rates
Pick-up directly from Japan Society office (members only): Free
£2.50 to UK addresses (second class)
£4.50 to Europe (standard delivery)
£8.50 Worldwide e.g. Japan, USA, Australia (standard delivery)
---
| | | |
| --- | --- | --- |
| Member First Copy | Free | |
| Member Subsequent Copy | £12.00 | |
| Non-member Price | £60.00 | |