Supporting the Arts & Culture for Peace Initiative
Subject: Art & Design / Other Topics
Level: Key Stage 1 / Key Stage 2 / Key Stage 3
Age: 5-7 years / 7-11 years / 11-15 years / 15+ years
Resource Type: Activities / Worksheets



The Japan Society has created these resources to support schools taking part in the UNESCO ASPnet Arts & Culture for Peace Initiative. These activties can be used by all participating schools and may be especially suitable for those wishing to learn more about Japan and Japanese culture as part of their wider projects exploring ASPnet's action areas of peace, sustainability, and intercultural learning and heritage.
e-forest for Peace
The e-forest for Peace aims to highlight the importance of living in peace with ourselves, our communities, and our planet. By taking part, schools will create artistically dynamic peace trees (real or imagined) which are decorated with students' poems, images and messages for peace.
Students can write, draw, or research poems and images related to peace for their tanzaku poem cards. These can be hung from furin wind chimes that are made from recycled or found materials to demonstrate the value in using 'less' materials.

Students can design or use sustainable 'peace trees' to display their work. Whether they use real trees or create 'tree' concepts created from found objects or structures is entirely up to the students.

Participants will also determine where their peace trees might be displayed locally, so that they can be appreciated by local communities.

The peace trees will contribute to a 'virtual' international 'ASPnet e-Forest of Peace', bringing the creative efforts of ASPnet schools together.
Activity Resources
Teachers will find notes below to assist them in designing the activity as well as practical worksheets to guide students as they create individual furin wind chimes and tanzaku cards which will display their poems, images and messages for peace!
Background Notes: History of Furin, Tanzaku, and Haiku for Teachers (PDF 1MB)
Preparation Notes: e-Forest Activity Preparation for Teachers (PDF 433KB)
Worksheet: How to Make a Tanzaku (PDF 677 KB)
Worksheet: How to Make a Furin (PDF 2.4 MB)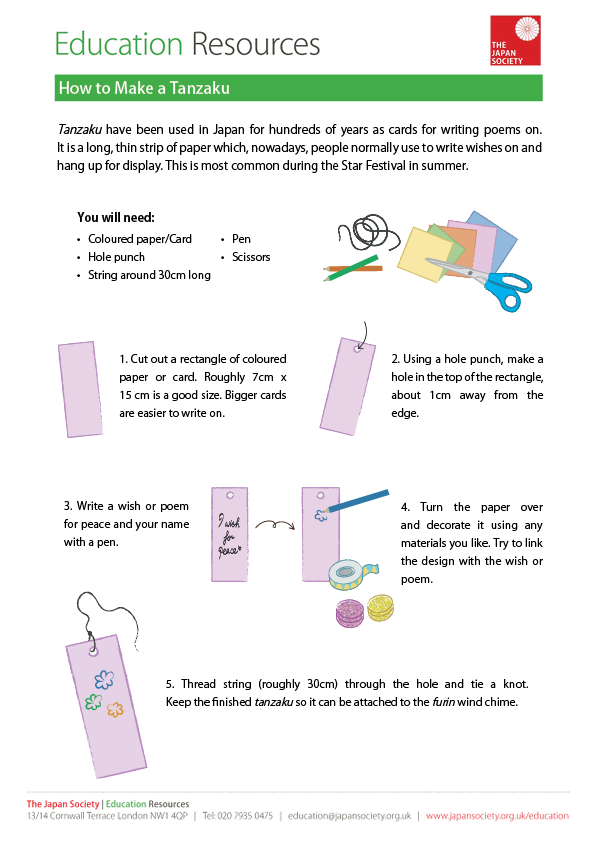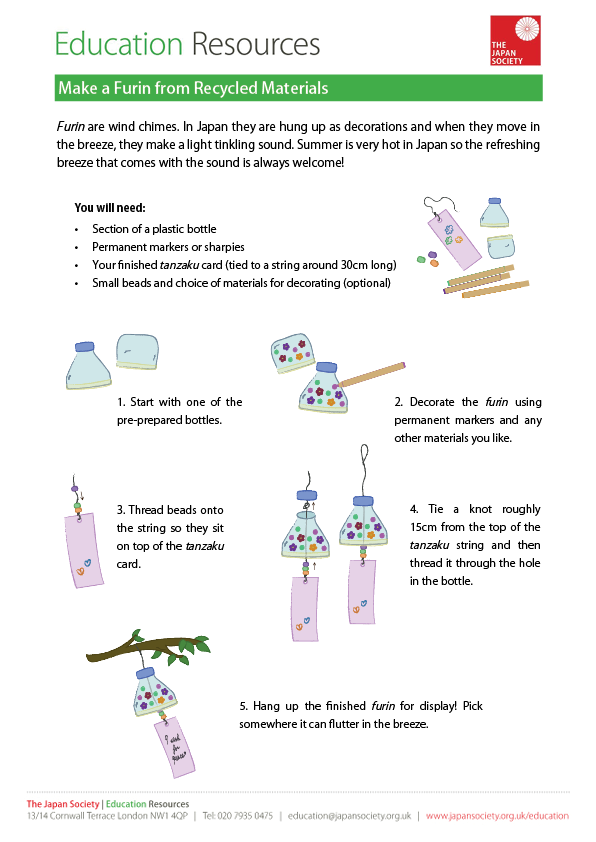 Example furin with tanzaku poem cards made from a recycled materials are below.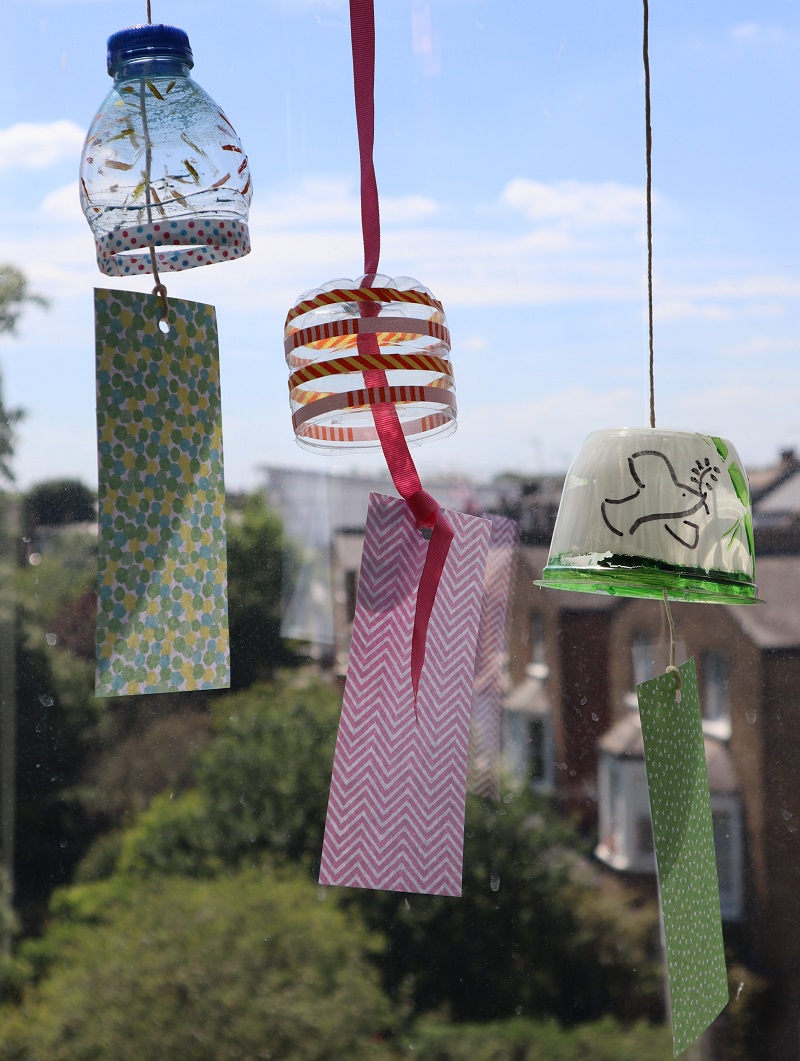 Additional Resources
---
About the Arts & Culture for Peace Initiative
The UNESCO ASPnet (Associated Schools Programme Network) Arts & Culture for Peace Initiative is led by UK ASPnet, supported by Japan's National ASPnet Coordinator and was inspired by the UK-Japan Between the Stones project. For more information about the project and activties for schools, please visit Arts & Culture for Peace.
For information about resources related to Japan and Japanese culture, contact the Japan Society's Education Team.