The Japanese Housewife Overseas: Adapting to Change of Culture and Status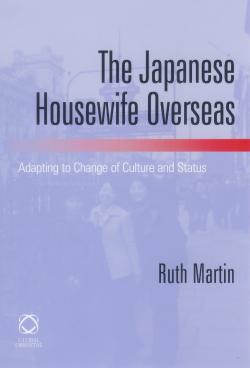 Global Oriental, 2007, 162 pages including index bibliography and endnotes, ISBN 978-1-905246-43-4, £45.

Review by Sir Hugh Cortazzi
Ruth Martin's study, which is based on a doctoral thesis, analyses the challenges and opportunities which the wives of Japanese businessmen faced when they accompanied their husbands on their postings to Britain. These differed depending on where their husbands worked.
Those posted to London often found that their husbands worked just as long hours as in Japan whereas the Japanese working in factories such as those around Telford tended to follow British hours and could spend more time with their families. Inevitably Japanese customs often prevailed especially in firms operating in the London environment. For instance the managerial hierarchy was reflected in the meetings of company wives where juniors had to get up and bow when the boss's wife came in and when she departed to her chauffeur driven car. Outside London the atmosphere was less hierarchical. One striking difference between being in Japan and Britain was that whereas in Japan wives rarely met other company wives in Britain they were much more likely to socialize with the other wives in their company.
It is noteworthy that practically none of the Japanese wives took up any paid employment when they were in Britain. Ruth Martin does not say whether British employment laws had anything to do with this. She points out, however, the voluntary work which Japanese wives undertook. They have, for instance, made a significant contribution to the 'Japan in Your Classroom' scheme sponsored by the Japan Festival Education Trust and Japan 21, now incorporated into the Japan Society. She notes the way in which the Japan Festival in 1991 and Japan 2001 "have gone a long way in affecting the image of Japan in the UK, especially among younger people."
A major challenge for Japanese wives in Britain has inevitably been language. Many wives came to Britain with an inadequate knowledge of English. This made it difficult for them to settle down and cope with problems in dealing with schools and household affairs which fell to them while their husbands were at their offices or factories. As Ruth Martin points out colloquial English can be very puzzling. One child was told to bring "Wellingtons" to school for an excursion. The mother eventually discovered what was wanted. In fact Japanese women, when given the right training, often prove better linguists than Japanese men. Some of the best Japanese/English interpreters, in my experience, are educated Japanese women, but they need to develop self-confidence. Many Japanese are afraid to of making mistakes and by so doing being impolite; accordingly they tend to be reluctant to take part in conversations thus making it more difficult for them to make English friends.
Many Japanese wives came to appreciate Britain as a place in which to live, but they also found some negative aspects of life in Britain such as the lack of customer service especially in London and the unreliability of British workmen plus, of course, the unpunctuality of British trains. Many did, however, make good English friends and these friendships often endured after they returned home. Life in Britain also helped many of them to appreciate better both the good and the bad points about life in Japan.
Ruth Martin's study understandably does not come to any startling conclusions, but its analysis contains much of interest to a student of Japanese society and culture and deserves to be read by more than the social science community.