Japanese Popular Prints – from votive slips to playing cards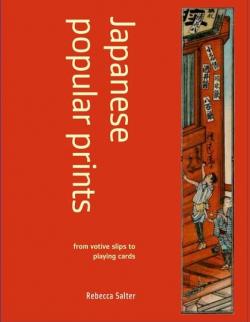 A & C Black (London), and University of Hawaii Press (Honolulu), 2006, 208 pages; full colour throughout (221 images), ISBN: 07136 65173, Price: £30.
Review by Marie-Thérèse Barrett
Rebecca Salter's book is not just another study of Japanese prints. Extensive research on ukiyo-e has somewhat elevated their status beyond that of street art. This book, on the other hand, focuses on truly popular images – calendars and board games, votive slips and measles charms, playing cards and toy prints. These were cheap, disposable items, full of fun and playful imagination but, as Rebecca Salter shows, technically just as skilful as the great masters' works. As a print-maker herself, she has combined her practical knowledge of the subject with in-depth research of a neglected topic full of visual discoveries, useful historical overviews, clear technical explanations and fun anecdotes.
The book covers mostly the late Edo and Meiji periods (18th to early 20th centuries) but starts with a history of woodblock printing in Japan, a technique introduced from China together with paper-making, its earliest surviving examples being the Buddhist prayer slips inside the million miniature wooden pagodas dedicated by Empress Shotoku in 764. The author emphasises the role of woodblock printing for the dissemination of beliefs, news and knowledge as well as fun and games in the Edo period (1615-1868) when it flourished. The "reservoir of skill" of carvers and printers who had honed their talents on Buddhist scriptures for centuries was now used for secular purposes. Apart from advertising kabuki actors and pleasure quarter beauties, popular prints propagated news and superstitions. For example, the 1855 Kanto earthquake inspired dramatic factual images as well as pictures of giant cat-fish, which were believed to be the cause of such disasters. Social satire was included, too. Builders were shown befriending the cat-fish, as earthquakes brought them extra income! Medicine charms and adverts for lotions and potions were also an essential part of the popular print culture. And, when Japan experienced a travel boom in the early 19th century, maps, guides and gazetteers gave practical advice on inns and sights which complemented the virtual tours given by Hokusai's and Hiroshige's famous landscape series. As a spin-off on this travel craze, travel board games became popular. The book illustrates two fascinating examples, both starting (of course) in Nihonbashi: one, a circuit of Kamakura, Enoshima and Oyama, by Hokusai; the other by Hiroshige, combining the Tokaido and the Kisokaido routes on the same board, leading the two players different ways to the same destination, Kyoto. These examples show how great artists applied their talent to wherever popular demand lay.
Stylistic innovations were also often used to stimulate a market hungry for novelties. Rebecca Salter shows how Okumura Masanobu depicted the kabuki stage in Western perspective style (uki-e) in the 1740s in order to create the "shock of the new" for his public, not out of scientific interest. Likewise, the fashion for mirror prints in the 19th century developed because of the amazing optical illusions created. All in all, the author emphasises the playfulness at the heart of Japanese popular prints, which also provided a safety valve in Edo society, otherwise tightly controlled by the Tokugawa regime.
This unique record of a threatened craft could only have been written by someone with a deep knowledge of Japanese art, society and language as well as being personally acquainted with the few elderly craftsmen surviving. The book reads pleasantly in a style that will satisfy both the specialist and the general public. Japanese terms are given with a clear explanation and a further glossary at the end (one little quibble, the use of "alphabet" to refer to kana instead of "syllabary"). The text is illustrated with a wealth of images that testify to the amount of original research by Rebecca Salter. The pictures recreate the "shock of the new" and provide much fun for the contemporary reader. Explanatory inserts, a glossary and a bibliography make the book a model of clarity and will surely become an essential work on a rich and fascinating aspect of Japanese art and society as well as being a delight to read just for pleasure.
Marie-Thérèse Barrett, NADFAS Lecturer in Japanese Art, Course Tutor (Japan module) for the British Museum's Diploma in Asian Art
Our readers can get at a £5 reduction on Japanese Popular Prints and free p+p. To order readers need to call 01256 302699 and quote the code GLR L84. Orders from A&C Black website to get a special 10% discount (but no free p&p): www.acblack.com