Minka, My Farmhouse in Japan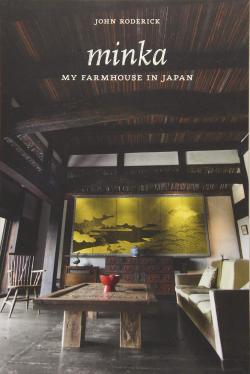 Princeton Architectural Press, New York, 2008, 255 pages, many black and white illustrations.Hardback £14.99. ISBN – 13: 978-1-56898-731-6
Review by Sir Hugh Cortazzi
Many visitors to Kamakura know the Zeni-arai Benten shrine where they can wash their money in the hope that it will multiply. It lies up a narrowroad from the back of Kamakura station. Beyond that up the winding lane lies another shrine and Genjiyama. From here on a fine day the visitor will have an excellent view of Enoshima with Mt Fuji rising in the distance. As the sun sets the view has a magical quality. Imagine having not just any old house here, but a traditional Japanese farmhouse in the gassho-zukuri style of Gifu and Fukui prefectures! This is the house which the late John Roderick (see obituary in The Times of 25 March 2008) used as his home. This book tells the story of the house and his relationship with the Takishita family, especially Yoshiro (Yo-chan) whom in due course he adopted as his son.
John Roderick, an American of French ancestry, was a foreign correspondent for AP. He had studied some Japanese during the war and his first contacts with Japan were coloured by memories of Pearl Harbor and Japanese maltreatment of prisoners of war. He became AP correspondent in China and was with Mao Tse Tung in the run up to the Communist victory. In 1959 he was posted to Tokyo. He found much that was appealing in Japan but disliked the fast industrialisation of the 1960s and was ready to move to Paris when he got to know Takishita Yoshiro, a Japanese university student. Takishita took Roderick to his home in Gifu. There Roderick was persuaded to accept an old farm house for the token sum of 5,000 yen. The farm house was taken down and eventually moved to Kamakura where it was rebuilt on Genjiyama.
Roderick recounts the problems which he encountered with Japanese real estate agents and neighbours on Genjiyama and his difficulties in finding the necessary money for rebuilding. One of the first problems was water. Another was roofing. The fire department in Kamakura would never agree to thatch as had been used in the original house. But the house was built and Roderick and Yo-chan were able to live there. He was greatly impressed by the carpenters who came from Gifu and by the resourcefulness of Yo-chan.
While Roderick covered world events for AP including Nixon's ping-pong diplomacy with China, Yo-chan developed a business in high-class Japanese antiques. His business prospered and another house was brought from Gifu and tastefully rebuilt as a showroom. His success in saving and transporting old Japanese farm houses soon attracted Japanese as well as foreigners to seek his help and expertise. In due course he rebuilt over forty Japanese farm houses including large-scale projects in places as far away as the Argentine and Hawaii. By the time John Roderick died this year in his nineties Takishita-san had become a leading architect in reconstructing and transferring old farm houses (see Takishita's book Japanese Country Style published by Kodansha International in 2002). He had also established for himself a reputation as a connoisseur dealer in Japanese antiques. Yo-chan is what the Japanese term 'me-kiki' (literally the effective eye); this means that he knows instinctively as well as from experience
John Roderick had many friends in high places and was a generous host. He helped Yo-chan to develop his business interests and the bond between them was a strong one as the adoption of Yo-chan as John's son demonstrates. One of the visitors to Yo-chan's and John's house was Hillary Clinton during a state visit by the Clintons to Japan. John decided that, although he was Democrat, he would not come back to receive the visitor as he felt that his presence might take some of the attention away from Yo-chan.
For anyone interested in Japanese traditional farmhouses and in human relationships this is an enjoyable book. For us it brings back happy memories of visits to Kamakura and reminds us of the objects which over the years we amassed in Japan, including some choice items from Takishita-san's 'House of Antiques' (info@house-of-antiques-japan.com).