The Business, Life and Letters of Frederick Cornes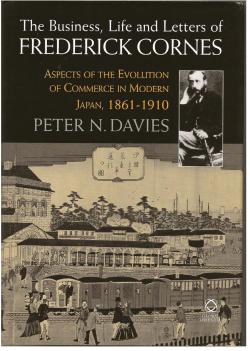 Global Oriental, 2008, 514 pages including index and appendices, plus a CD of the letters, Hardback £75. ISBN 978-1-905246.
Review by Sir Hugh Cortazzi
Peter Davies is Emeritus Professor of Economic History at Liverpool University. He contributed a biographical portrait of Frederick Cornes to Britain and Japan: Biographical Portraits Volume IV, Japan Library 2002. This volume also contained a biographical portrait by Merrick Baker-Bates of Peter Hewitt who was in charge of Cornes and Company in Japan from the 1950s to his death in 1982.
Aspinall Cornes, as Cornes and company was called until 1873, was established in Yokohama in 1861. In the early years after Japan was opened to trade, the firm was primarily engaged in the export of tea and silk, but it soon developed interests in real estate, shipping and insurance. It was from the beginning one of the leading British trading companies in Japan.
The Cornes archive, which is reproduced in this book, is unique as the records of most firms established in the early days of the foreign settlements have disappeared or were destroyed in the Yokohama earthquake of 1923 or in wartime air raids.
Peter Davies has provided a valuable introduction to the archive. He sets out the background to trading with Japan in the latter part of the nineteenth century. He then describes the life and career of Frederick Cornes, the success of the Cornes enterprise and his legacy. He also provides a guide to the personalities, topics and problems covered in the letters. The contents of 118 copy books of Frederick Cornes' correspondence and of two volumes of private letters, which are reproduced in the CD enclosed in the book, are briefly outlined. The private letters from 1864 to 1868 help the reader to get a feel for the life of traders in Yokohama in the final years of the bakufu and early Meiji.
Frederick Cornes was an astute and able businessman with a keen eye for ways in which business could be expanded. He became a friend of Ernest Satow who often stayed with Cornes at his London home. His daughter Amy, born to his Japanese 'common law' wife, Yamada Otama, was for a time looked after by Satow and his 'wife' Takeda Kane. Amy, or Yamada Chiyo as she preferred to be called, became a teacher and lived in Yokohama until her death in 1960.
The production of this book was made possible by a grant from the present owners of Cornes and Company, whose President and CEO is Mr Shinichiro Watari, and from the Great Britain Sasakawa Foundation, whose President, Professor Peter Mathias has provided a preface.
As Professor Mathias points out there "is relatively little accessible contemporary and primary material about the commercial evolution of the modern Japanese economy and its international connections." This book will be of particular interest to students of economic history and of the trading relationship between Britain and Japan especially in the years up to the Second World War.