Nonko (ノン子36歳 – 家事手伝い)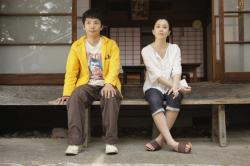 2008, 106 minutes
Review by Susan Meehan
Nonko, wonderfully played by Sakai Maki (坂井真紀), is a 36 year old divorcee who has returned home to her parents' Shinto shrine in provincial shrine, embittered at the collapse of her marriage and the end of her film career as a starlet. Nonko mopes around the family home where she is supposed to be the 'home help' and spends most evenings in an alcoholic stupor, fuelled by visits to a bar run by a former classmate whose marriage has also come to an end.
Lethargic, uninspired and bored by life, Nonko encounters the young and naive Fujimaki Masaru who is hoping for a stall space at the upcoming local festival. Despite herself and better instincts, Nonko ends up helping Masaru and facilitates his stay at her home in the run-up to the festival.
The gauche Masaru gives Nonko something to focus her attention on and they gradually become close. This state of affairs is disturbed by the sudden appearance of Udagawa, Nonko's former husband who has come to offer her a job as a film agent. Nonko is a mess, emotionally and physically torn between the apparently innocent Masaru and Udagawa.
On the day of the festival, Udagawa disappoints Nonko once again; he is purely after a loan from her. Nonko's dreams of leaving her parents' home on the strength of the job promised by him are shattered. At the same time, Masaru flips at not being able to set up his stall which newly-hatched chicks and embarks on a scary and unsettling Rambo-style rampage.
Nonko whisks him away and they both disappear, their lives in tatters, heading away on a train, hopefully to better things.