Teacher and Three Children (石内尋常高等小学校 花は散れども)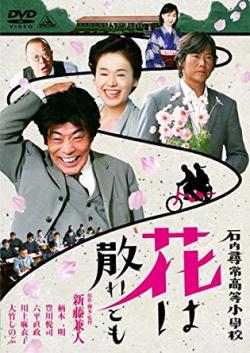 2008, 118 minutes
Review by Susan Meehan
The scene is set in 1920s Ishiuchi (石内尋)in Hiroshima Prefecture and revolves around the sixth form at Ishiuchi Jinjo Primary School who are blessed with the warm-hearted and dedicated Mr Ichikawa as their teacher. Through him they learn compassion – having scolded Moriyama Sankichi on one occasion for sleeping in class, Mr Ichikawa then begs his forgiveness when Sankichi cheerfully recounts that he has been up all night harvesting rice. Mr Ichikawa also feels for penniless class president, Yamazaki Yoshito who leaves Ishiuchi at the end of the school year when his mother dies. He also shows them the force of love when he marries a fellow teacher, and broadens their minds by taking them on excursions.
30 years on, the ebullient Sankichi organizes a class reunion to celebrate Mr Ichikawa's retirement and 16 gather out of the class of 32. At this point the film turns overly sentimental and self-pitying; the 16 recount what has happened to them in the intervening years and, predictably, most of them tragically lost family in the atomic bombing of Hiroshima.
Fujikawa Midori, now married, confesses the love she has harboured for Yoshito, now struggling as a screen-writer in Tokyo and, once all others have made their ways home, persuades him to spend the night with her in Ishiuchi as her husband is out of town.
Yoshito visits again five years later, having heard of the death of Midori's husband, stabbed in Osaka. Yoshito meets Midori's five-year old daughter, Yoshiko, and pays a visit to Mr and Mrs Ichikawa who have remained at the forefront of his mind since the reunion. It is Mr Ichikawa who had said that Yoshito is "smart but has no passion" and these words reverberate in the mind of the still struggling writer.
Life continues apace. Mr Ichikawa, left with irreversible speech difficulty after a stroke is visited again by Yoshito, Midori and Sankichi who cheer him and his wife up with their company and by singing the Ishiuchi Jinjo Primary School song. Mr Ichikawa continues to deteriorate, Yoshito continues to have difficulties with his work and Midori, though pining for him, refuses his marriage proposal; she doesn't want him to leave Tokyo to join her at her restaurant and wants him to continue writing.
A touching film, sometimes maudlin, of life and lives – often unfulfilled or not lived to their full potential.