Issues and Options for U.S.-Japan Trade Policies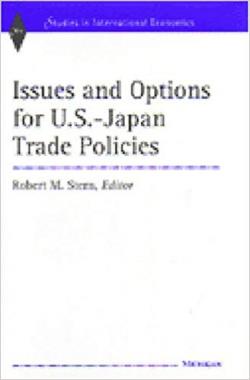 Edited by Robert M. Stern
University of Michigan Press (July 9, 2002)
ISBN-13: 978-0472112791
Review by Takahiro Miyao
---
Chapter 7 of this book offers an excellent exposition of the historical development and current issues surrounding the debate about patents between Japan and America. It also looks at issues and options for U.S.-Japan trade policies. This chapter, "intellectual property issues for the United States and Japan: disputes and common interests," is written by University of Colorado professor Keith E. Maskus, who once served as a consultant for World Intellectual Property Organization and other related agencies.
First of all, Professor Maskus emphasizes the fact that a new set of multilateral rules for patent protection has been established by the WTO Agreement on the Trade-Related Aspects of Intellectual Property Rights (TRIPS), and the U.S. and Japan share a broad commonality of interests in supporting such a new regime for global intellectual property rights at least over the medium term. In the immediate term, however, the two countries seem to have concerns about each other's patent systems, which are neatly explained in this chapter.
The remaining issues include (1) whether Japan's standards for intellectual property rights are too stringent to have effective international competition (the TRIPS approach seems inadequate to deal with cross-border agreements and constraints, according to Professor Maskus), (2) how to deal with intellectual property rights for genetically modified organisms in connection with environmental regulation, and (3) how to develop standards for international information on centralized clearing of copyrights on the Internet.
In conclusion, Professor Maskus sides with the bilateral approach at least in the short run, although he maintains that the U.S. and Japan share their common interest in shaping the future of global intellectual property rights over the medium term.
Related reviews:
Valuing Intellectual property in Japan, Britain and the United States
On-line review: Read review