Britain and Japan: Biographical Portraits, Volume VIII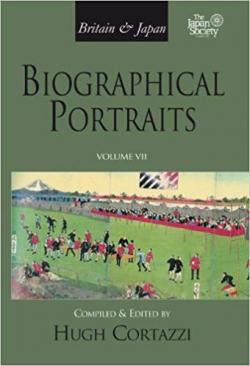 Global Oriental in association with the Japan Society, 2010, 665 pages, ISBN: 978-1906876265
Edited by Sir Hugh Cortazzi
Review by Sean Curtin
This is another superb volume in the Biographical Portraits series which profiles people who have contributed to enhancing Anglo-Japanese relations. In this impressive publication, edited by Sir Hugh Cortazzi, the achievements of 44 diverse individuals are chronicled ranging from Prime Minister Neville Chamberlain to the Nobel Prize winning playwright George Bernard Shaw. There are also five addition essays focusing on Anglo-Japanese related topics which include Japanese garden designers (by Jill Raggett), architecture (by Anna Basham), football (by Derek Bleakley), an engaging memoir on what it was like for British diplomats in Tokyo during 1941 (by Douglas Busk) and a stimulating historical piece on horse racing (by Roger Buckley).
Any review of this absorbing book, which represents the research of almost 40 different writers, cannot possibly do justice to its 47 fact-packed, informative chapters. One can only hope at best to scratch the surface and illuminate a small fraction of the excellent articles presented in this substantive scholarly work. Each reader will find their own personal favourite essays, which are divided into 10 sections exploring the accomplishments of such well known personalities as the philosopher and writer Bertrand Russell, who was singularly unimpressed by Japan (page 261), to relatively obscure figures such as the pioneering missionary Florence May Freeth, who spent 46 years in Kyushu (1896 to 1940), or the chemistry professor Edward Kinch, who promoted the development of agricultural chemistry in Japan and also helped internationalize Japanese food culture (page 365). I found each article contained some rewarding gems of information and was frequently amazed by the extraordinary life courses of some of those profiled. Another facet of this work is that one learns of the strong Japan connections held by a host of historical figures not normally associated with Japan. A good example of this is Peter Kornicki's profile of General Sir Ian Hamilton, most famously associated with the disastrous 1915 Dardanelles Expedition and the bloody Gallipoli landing (page 162), who it turns out was a key British military observer during the 1904-5 Russo-Japanese war.
The majority of readers will most likely be unfamiliar with many of the personalities profiled in this volume, such as the gifted Japanese print artist Mokuchu Urushibara (漆原木虫) or the early Meiji architects Wells Coates (pages 456-68), Thomas James Waters (pages 469-86) and Kingo Tatsuno (辰野金吾), who lived in England for two years (1880-2) and was widely travelled (pages 443-55). Nevertheless, these lesser known figures often made significant contributions to bilateral relations as well as leading extremely interesting lives. A typical Biographical Portrait of one of these less well known persons, which I personally enjoyed, was Dugald Barr's piece on the parliamentarian Sir Julian Ridsdale (1915 – 2004), who took a special interest in Japan during his long career as a lawmaker and who the speaker of the House of Commons, Bernard Weatherill, once referred to as (page 93) "the member for Tokyo." Ridsdale had studied Japanese at SOAS and was a military intelligence officer during the war specializing in Japan. I was especially fascinated by Ridsdale's childhood in which he frequently encounter a host of illustrious relatives including the former Prime Minister Stanley Baldwin and writer Rudyard Kipling.
Carmen Blacker was another subject with a fascinating childhood and gripping life course leading her from wartime Bletchley code-breaker to a greatly accomplished Japan scholar. Peter Kornicki brilliantly illuminates her youthful yearning and determination to learn Japanese, which led her to demand "at the precocious age of twelve, for a Japanese grammar [book] for her birthday (page 217)." Such informative and human profiles help us to better understand the person and put their achievements in context.
Nicolas Maclean provides a warm portrait of the distinguished academic Keith Ernest Thurley, charting his dynamic career while providing some interesting anecdotes and insights along the way. Maclean observes, "For Keith, research was not a matter of experts producing articles for other experts to read: there were no 'Forbidden Cities' for intellectuals. It was instead a process of education and re-education for both the researcher and the audience (page 244)." Such personal insights are one of the charms of this book.
Not all the profiles are as intimate as the ones on Blacker and Thurley, others are more analytical such as Anthony Best's piece of the Chamberlain brothers, Austen and Neville. I must confess that I found this chapter of particular interest as these two prominent politicians have a modern parallel in the Miliband brothers. There are also some intriguing similarities, elder brother Austen, the like the contemporary David Miliband, had been foreign secretary and a rising star of his generation, yet it was Austen's younger brother, Neville, who was destined to be party leader and Prime Minister. This essay does not examine sibling rivalry but instead explores how Japanese diplomats viewed the two brothers. Austen was seen as being unsympathetic towards Tokyo, a shift which is charted up to his visionary 1933 pronouncement on the direction of Japanese foreign policy, "…an adventure the end of which may be far distant and the expenditure of which in blood and treasure may be far greater than her people now foresee (page 72)." Neville on the other hand is seen as being "pro-Japanese," especially during his time as Chancellor of the Exchequer, "Japanese observers in the 1930s felt that as long as Neville Chamberlain was in a powerful position there was always the possibility of a rapprochement being achieved (page 75)." However, Anthony Best believes Tokyo's diplomats got it wrong and there is no real evidence to substantiate this view.
Bernard F. Dukore looks at George Bernard Shaw's 1933 whirlwind tour of China and Japan where the great man of letters meets the renowned Chinese writer Lu Xun (鲁迅), Soong Ch'ing-ling (宋庆龄), the influential widow of the Republic of China's founding father Sun Yat-sen (孫中山), and Japan's Prime Minister Makoto Saito (斎藤 実). He only spent 10 days in Japan, but managed to visit Beppu, Kobe, Tokyo, Yokohama and Osaka, the latter which he describes (page 254) as "a huge industrial hell." This portrait will be of particular interest to Shaw fans as it contains a previously unpublished article Shaw wrote after his trip to Japan. However, while he was undoubtedly a literary giant, his political analysis was less impressive, Shaw observed, "In the future Japan and all the other Powers will have to compete with Russia in promoting the welfare of their people. If you shut your eyes to this you may live to see a statue of Lenin and a bust of Marx in every Shinto temple (page 253)."
The rich reference material in this publication alone would warrant merit, but it forms just one part of a larger series of Japan Society supported volumes which record the lives and accomplishments of people who have contributed in a variety of ways to UK-Japan relations. This current publication also has a very handy index that lists all those people so far covered in the entire Biographical Portraits related series, where to find each one as well as a list of the authors of the respective essays. Astonishingly, this new volume along with the previous Biographical Portraits books and associated publications brings the number of individuals chronicled to well over 350, making this a significant reference source. This is an impressive accomplishment, which is certain to grow in the years and decades to come, and all those associated with this project deserve our admiration.
Looking at this wide ranging book as a whole, it struck me that despite the great diversity of the subjects and the high number of profile writers, there were some additional unifying features besides the basic guideline of Anglo-Japanese relations which bind this work and the wider series. One such element that personally struck me was how, despite a considerable number of decades, Hugh Cortazzi would frequently appear somewhere in the latticework of the individual narratives. To illustrate this point, when Carmen Blacker arrives in Japan in October 1951 she bumps into a young Hugh in Tokyo (page 220), fast forward several decades to April 1982 and Julian Ridsdale has just arrived in Japan only to be told by "Ambassador Sir Hugh Cortazzi" that Argentina had invaded the Falklands (page 90). Sir Hugh is so interwoven in the fabric of Anglo-Japanese relations that it almost seems he has encountered nearly every significant figure spanning his adult lifetime. Such a unique perspective makes him the perfect editor for this new work as well as several of the earlier books in the series. He most certainly deserves special praise for the tremendous amount of effort he has put into producing this new book and propelling the valuable and substantive Biographical Portraits project forward.
Britain and Japan: Biographical Portraits, Volume VII is available in paperback to members of the Japan Society price £12 plus postage & packing.
Hardback copies are on general sale from Global Oriental price £65.