Japan's Asian Policy: Revival and Response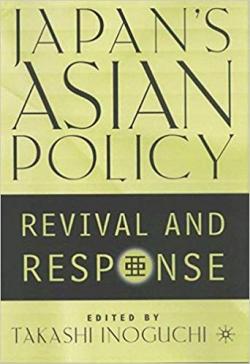 By Takashi Inoguchi (Ed)
Palgrave Macmillan; 2002 edition (27 Sept. 2002)
ISBN-13: 978-0312294809
Review by Takahiro Miyao
---
This volume is an output of the conference that Professor Takashi Inoguchi organized at the University of Tokyo in 1999. The contents are about Japan in the Asian region and very well-balanced in terms of geographical representation, containing Chapters on Japan's relations with the U.S., China, Korea, Russia, Australia, India, Indonesia and other ASEAN nations.
In his Introduction, Professor Inoguchi points out the dynamic "metamorphosis" of Japan's Asian policy with special emphasis on the period from 1993 to 1998, when Japan's initiative in establishing closer relations with its Asian neighbors became quite visible. It is interesting to see his interpretation of this dynamic development not as an anti-U.S. Reipropriporjoy . movement in Japan or in Asia, but rather as an extension of the U.S. notion of "hub-and-spokes relationships in post-Cold War regional politics" together with Japan's own desire not to be overcome by China's rapid expansion in political and economic power.
Incidentally, Professor Inoguchi has added his thoughts on implications of the terrorist attacks on September 11, 2001, and reinforced his view by stating that Japan is closely working with the U.S., while actively expanding its role in a greater Asian region including Central Asia this time, somewhat similar to its South Asian policy during the 1980s. However, a question remains whether Japan can be a smart player in regional politics, especially when the target region becomes so wide, a question that is posed by Professor Inoguchi himself in his conclusion. He probably needs to produce another volume to cover Japan's policy toward a wider Asian region than this one.
Contents: Introduction Takashi Inoguchi; Part I: Regional Contexts, America's Liberal Grand Strategy in the Asia-Pacific G. John Ikenberry; Beyond East Asia's Economic Crisis: Development Paradise Lost Peter Drysdale; ASEAN and Japan's Southeastern Regionalism? David Chee Meow Sheah.
Part II: Japan's Neighbors: Adjusting to "Strong-Strong" Relationship: China's Calculus of Japan's Asia Policy Jianwei Wang; Responding to Japan's Asia Policy: The Korean Calculus Chung-In Moon and Jung-Hoon Kee; Russia's Calculus and Japan's Foreign Policy in Pacific Asia Gilbert Rozman; Japan, Indonesia, and Policy Leadership in the Pacific: Economic Crisis and Foreign Policy Opportunities -- Andrew MacIntyre; India's Calculus of Japan's Foreign Policy in Pacific Asia Purnendra Jain.

This review first appeared on the GLOCOM Platform and is reproduced with permission.