Bernard Leach Life & Work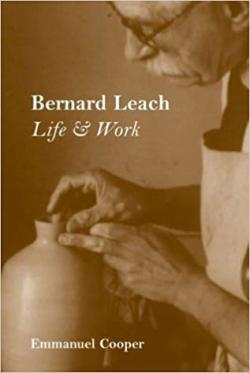 By Emmanuel Cooper
Yale University Press (14 Mar. 2003)
ISBN-13: 978-0300099294
Review by Sir Hugh Cortazzi
---
Bernard Leach (1887-1979) was and still is better known and appreciated in Japan than in Britain. His achievements as a potter and an etcher were outstanding. Through his work as a potter he enhanced the status of pottery as an art form in Britain. Through his friendship with Yanagi Soetsu and Hamada Shoji he helped to found and develop the Mingei (folkcraft) movement in Japan.
Emmanuel Cooper in this carefully researched biography traces the life and work of Bernard Leach and evaluates his contributions as an artist, potter and philosopher. He has tried hard to be fair in his assessments but does not attempt to gloss over Leach's shortcomings as a man and as a thinker. He describes Leach's three marriages and his sexuality. He also explores his sometimes turbulent relations with his friends and his family. He follows sympathetically Leach's attempts to find a philosophy of life and his eventual adherence to the Bahá'í faith.
Bernard Leach's mother died in giving birth to him in Hong Kong. His grandparents took him as a baby to Japan. When he was eventually reunited with his father who had remarried his relations with his stepmother were difficult. He was unhappy at Beaumont, the Jesuit school to which he was eventually sent, and hated his brief time as a clerk in the London branch of the Hong Kong and Shanghai Bank. When he came into his small inheritance, he started to study art at the London School of Art. There he came under the influence of Sir Frank Brangwyn RA who was a great enthusiast for Japanese art and met Takamura Kotaro, a young Japanese sculptor. Both aroused his latent memories of Japan as a child and he was encouraged by his reading of the writings of Lafcadio Hearn to seek a career in Japan as a teacher and artist. He reached Japan in 1909 and was joined there by his cousin Muriel with whom he had fallen in love and who was the mother of his children. Among his earliest Japanese friends were Yanagi Soetsu whose enthusiasm for William Blake impressed him greatly and who drew him into the Shirakaba movement and Tomimoto Kenkichi who was to become one of Japan's leading ceramic artists. Leach's own fascination with ceramics grew from his participation in a raku party at which he designed his first pot. He soon began to study potter's art in earnest under the sixth Kenzan, but still regarded himself as primarily an etcher. He was diverted from developing his skills as a potter by an unfortunate fascination for Dr Alfred Westharp, a Prussian Jewish philosopher working in Peking. He moved for a time to China and brought over his young family. According to Cooper 'Westharp's blend of idealism, authoritarianism, neo-fascism and libertarian concepts of individual freedom lay in his enthusiasm for the educational theories of the Italian doctor Maria Montessori'. He also urged 'sense experience', a euphemism for sexual experiment which appealed to Leach but not to Muriel.
Eventually at Yanagi's urging Leach recognized that Westharp could not provide the answers to his quest for spiritual and physical fulfilment and the Leaches returned to Japan. There he set up his own kiln and studio and developed his career as a potter.
In 1920 he decided to return to Britain and with his potter friend Hamada Shoji set up the Leach pottery at St Ives. Around 1925 his somewhat fraught relationship with the Elmhirsts and Dartington Hall began. In 1931 the St Ives team of potters was joined by Laurie Cookes who was destined to be Leach's second wife. In 1934 Leach escaped from growing problems at the Leach pottery and in his marriage for a fifteen month tour of Japan where he held successful exhibitions and was given a warm welcome wherever he went. In 1935 he returned to England and to the break-up of his first marriage, living with Laurie for a time in a caravan near Ditchling in Sussex.
The Second World War disrupted the St Ives Pottery which was damaged in an air-raid. His son David Leach on demobilisation from the army returned as manager to the pottery to which student potters from around the world came to work and study. Leach was thus enabled to go off on tours to Scandinavia and the USA. In 1953 he had a triumphal return to Japan and began his research for his book on the first Kenzan. This led him into a controversy about the authenticity of a number of pots allegedly by Kenzan which had apparently been recently found. Leach asserted on the basis of his instinct that they were genuine although other scholars thought that they were fakes. Leach could be both pompous and didactic.
In the course of one of his tours in the United States Leach met Janet Darnley, a potter who was to become his third wife following the breakdown of his relationship with Laurie. Leach, who had various financial problems and disagreements with his family, thought at one point of settling in Japan, where he felt that he was better appreciated than in Britain. But he was dissuaded from doing so by Yanagi, who perhaps feared that Leach would undermine his leadership of the Mingei movement. Janet took over management of the pottery, but her abrasive manner and her addiction to whisky made life there difficult. Leach accordingly sought comfort in his Bahá'í faith and the adulation which he continued to receive whenever he visited Japan.
In ceramic circles in Britain he was not always seen as the guru he wished to be considered. His opposition to mechanisation and his almost total adherence to Japanese aesthetic criteria were not accepted by all the younger generation of potters. The controversy was summed up in the phrase 'To Leach or not to Leach'. However Leach was a friend of all the leading British potters of post-war Britain in particular of Lucie Rie and of many who had studied at St Ives including Michael Cardew, who gave a farewell address at Leach's funeral and who pointed out that "when Leach set up his Pottery with Hamada in 1920 they were contributing to a 'quiet, benign, non-violent revolution in the potter's art which had been gaining converts ever since.'" Leach was not without honour in Britain. He was made a CBE and finally became a Companion of Honour (CH).
Emmanuel Cooper's fascinating and comprehensive study of a great artist and potter adds greatly to our understanding of the man and his work. It is a pity that the sub-editors did not check more carefully on the spellings of Japanese names and place names. The introduction states that following convention Japanese names are given in traditional form, with the family name first, but in many cases the European order is followed.