Project Japan and Art Media, Edo to Now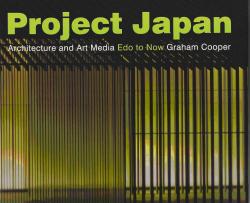 Project Japan and Art Media, Edo to Now by Graham Cooper, with essays contributed by Japanese architects Fumihiko Maki, Kisho Kurokawa, Tadao Ando, Kengo Kuma and Makoto Sei Watanabe, Images Publishing, Australia, 2009, 240 pages, numerous colour illustrations, ISBN 978 1 86470 300 2
Review by Sir Hugh Cortazzi
Graham Cooper introduced his book to an audience at Daiwa House in London on 28 October 2010. He had been awarded a Japan Foundation Artist Fellowship in 1995 with a brief to study "Art in the context of Contemporary Architecture in Japan." He explains in his "Author's Statement" that this survey "is a record of personal assignments and captures the many sites" which he has visited. He "discovered a distinct lack of understanding and awareness in the wealth of creativity currently on display in Japan."
Following a preface by Tadao Ando, one of Japan's outstanding modern architects, Graham Cooper sets the scene by a brief survey of the history of Japanese architecture. This is followed by an essay entitled "Mass Culture and Self-Restraint: a Japanese Aesthetic." He then discusses the urban context which he describes as "Ancient and Modern Cheek by Jowl." In describing modern Japanese architecture he notes Fumihiko Maki's perceptive comment that "architects have an obligation to involve existing craft skills in the construction industry." He thinks that "The design of cities and public spaces in future will be driven by society's desire for a more healthy and sustainable quality of life." However, he considers architecture to be an "ornamental art form."
After these introductory essays the book contains a 'catalogue' (photographs) of buildings by modern Japanese architects together with descriptive commentaries. The personal contributions of modern Japanese articles are followed by a number of reviews beginning with an essay about the Japanese-American sculptor Isamu Noguchi.
This book was published somewhat earlier than New Architecture in Japan [review in forthcoming issue 30] by Yuki Sumner, Naomi Pollock with David Littlefield and photographs by Edward Sumner, published by Merrell, London and New York in 2010 which I reviewed earlier this year for the Japan Society [this review is on our website]. The approach of the two books differs but they both shed light on architectural trends in modern Japan. This book was also published before our volume VII of Britain and Japan: Biographical Portraits [review in this issue] which contains a number of portraits of British and Japanese architects namely Tatsuno Kingo, who studied under Josiah Conder and then in Britain and Europe, Wells Coates, who was described by Anna Basham as "Modernist Japonisme," and Thomas James Waters who designed among other Meiji buildings the mint in Osaka, Takebashi barracks in Tokyo and who inspired 'Ginza Bricktown.' The essay in the same volume by Ann Basham on "The Changing Perceptions of Japanese Architecture, 1862-1919" provides a valuable account of how British attitudes towards Japanese architecture developed over the years. Although there are an increasing number of books about Japanese architecture in English there is still much work to be done on the Anglo-Japanese relationship in the context of architecture.
Graham Cooper's book is informative but his style does not make for easy reading and this book cannot be considered as a definitive account of modern Japanese architecture. The illustrations are not in my view as good as those in New Architecture and it is not always easy to envisage the impact of the buildings selected for illustration on their surroundings. Nevertheless they provide valuable information which contributes to our appreciation of modern Japanese architecture.
I found it difficult to select typical illustrations for this review. Some such as Tadao Ando's Chichu Art Museum Naoshima need to be seen from many angles and are difficult to reproduce in a short review. A quirky example of ornamental Japanese architecture is that of a straw shopping bag (Tang Da Wu) (page 139):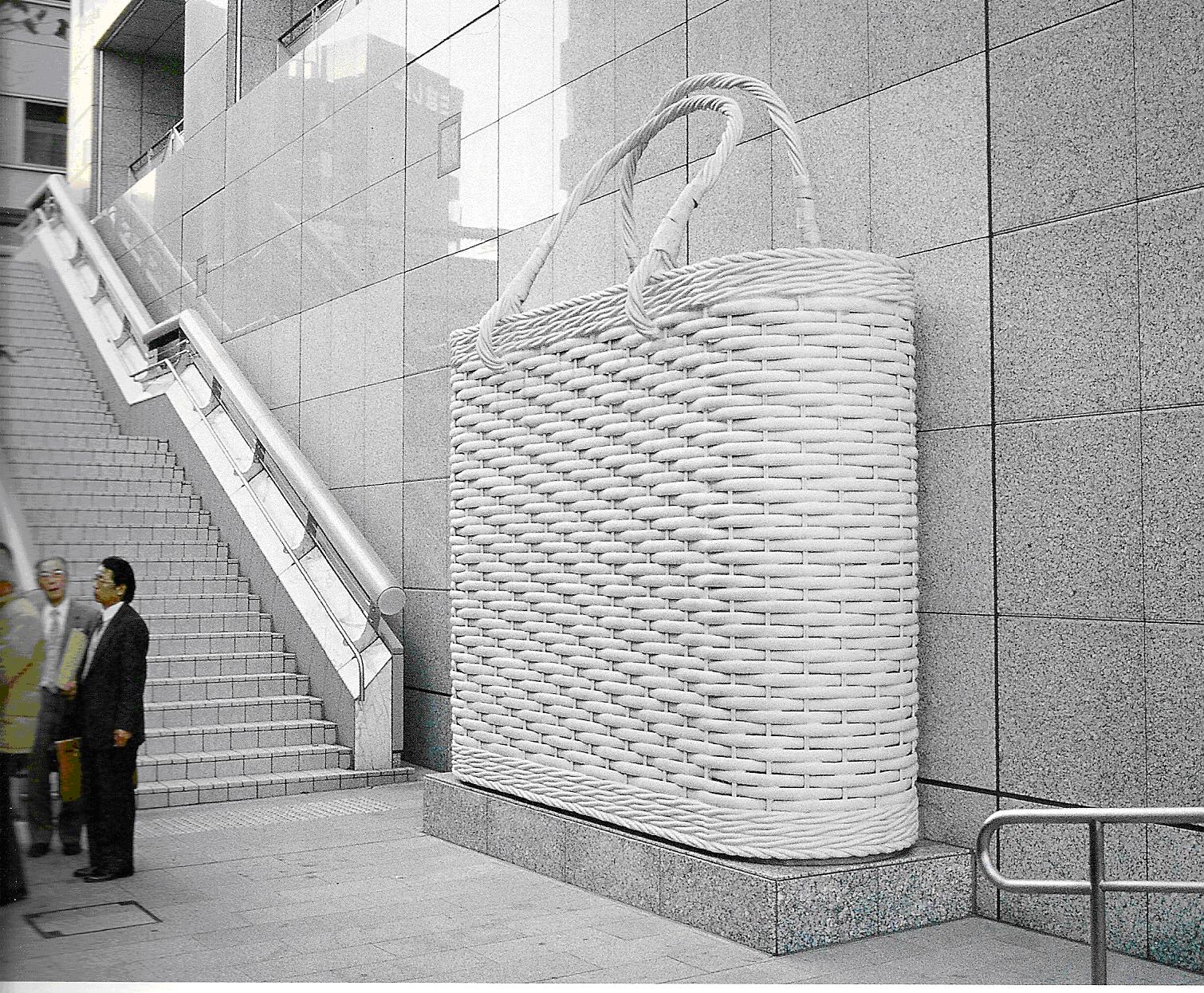 The fruit museum at Yamanashi by Itsuko Hasegawa, who according to the commentary "combines her interest in new materials and the natural environment with her concerns for the user" may also seem quirky to some: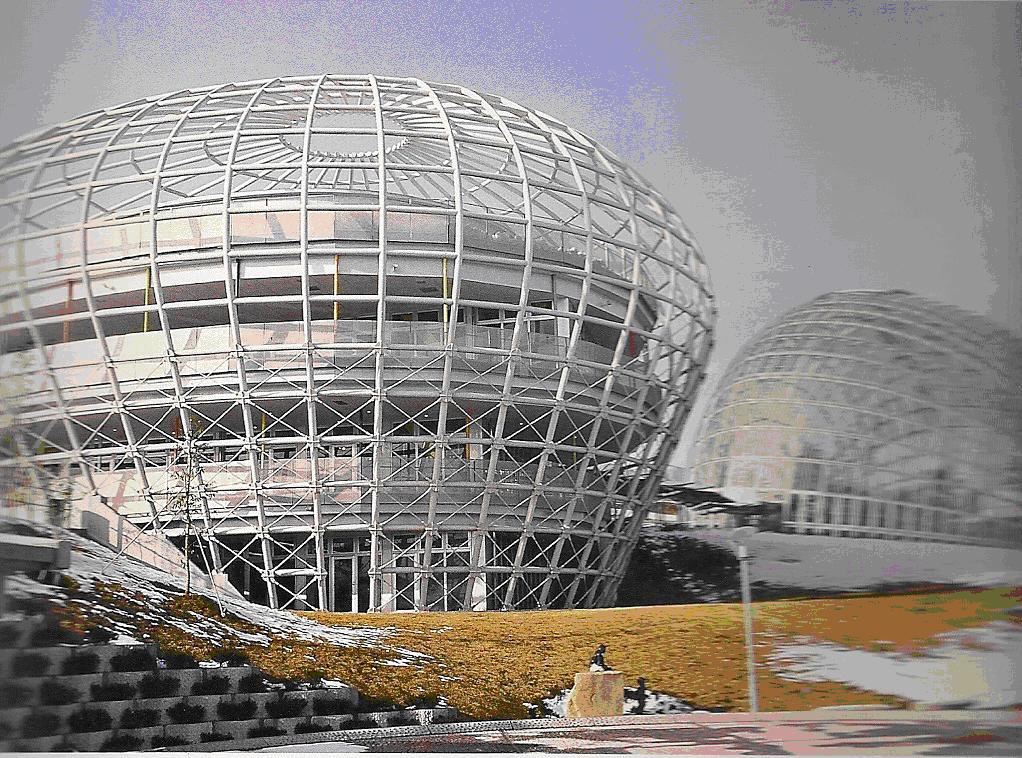 An example of the close relationship between Japanese architecture and garden design is shown in the following photo of rocks at the Canadian Embassy in Tokyo: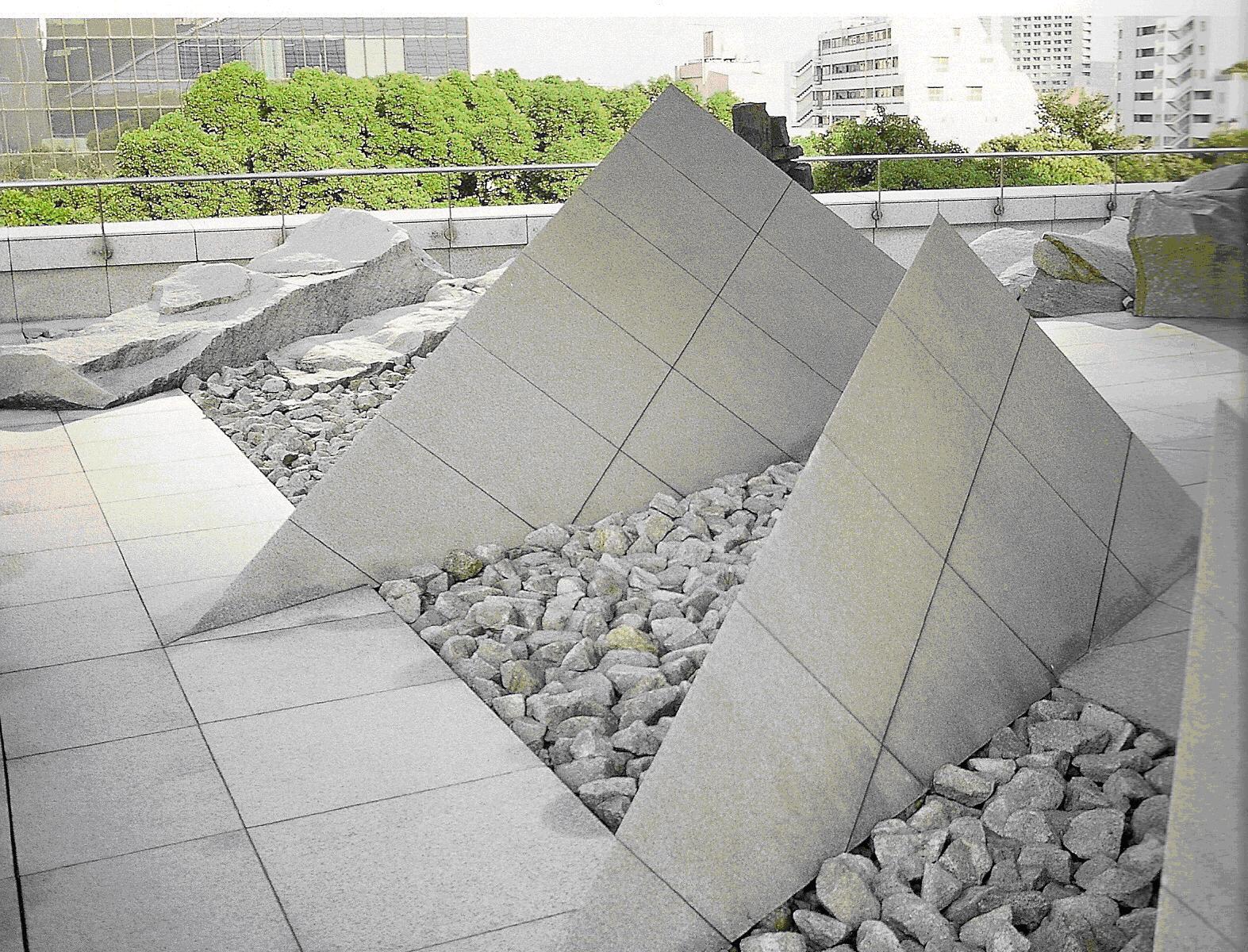 Some of the best illustrations are of traditional Japanese architecture such as this of old houses in Kanazawa: