Japan Extolled and Decried Carl Peter Thunberg and the Shogun's Realm, 1775-1796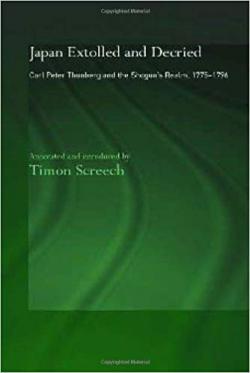 Annotated and Introduced by Timon Screech
Routledge; 1 edition (October 12, 2005)
ISBN-13: 978-0415515368
Review by Sir Hugh Cortazzi
---
This is a parallel volume to Secret Memoirs of the Shoguns, Isaac Titsingh and Japan, 1779-1822, also annotated and presented by Professor Screech. The writings about Japan by Thunberg and Titsingh are important for students of Japan's relations with the outside world in the Edo period and Professor Screech has provided a valuable service by ensuring that they are available in more than a limited number of specialist libraries. His meticulous introductions and endnotes clarify many obscure points and fill in the background as well as providing details of the lives of Thunberg and Titsingh. Of the two, students are likely to find Thunberg more interesting than Titsingh. It is a pity that the books are so expensive, but limited demand probably makes this inevitable.
Thunberg, who was Swedish, studied at Uppsala University under the famous botanist Linnaeus who formulated modern scientific classification of plants. In the end he succeeded to Linnaeus' position at Uppsala. As a young man he qualified as a doctor of medicine and became an expert botanist, a field in which he determined to make his mark by studying plants in various parts of the world. In order to do so, he joined the Dutch East India Company (VOC) as a physician and after spending some time at the Cape of Good Hope reached Batavia where he managed to get himself appointed as doctor to the Dutch factory at Dejima in Nagasaki. He arrived there in the summer of 1775 and stayed nineteen months. While in Japan, Thunberg accompanied the head of the Dutch factory on the annual mission sent to the shogun in Edo. In Edo Thunberg, who was much more highly qualified than the usual "barber-surgeon" to the Dutch mission, met a number of prominent Japanese physicians to whom he taught aspects of western medicine including the treatment of syphilis. He also collected, while in Japan, a large number of plants which he recorded and illustrated in his Flora Japonica published in 1784. He gave an account of his travels in the four volumes of his Resa (Travels), which appeared between 1788 and 1793. The third volume and part of the fourth volume covered Thunberg's observations on Japan. Professor Screech's book reproduces all Thunberg's writings about Japan with only very minor omissions of largely technical botanical information.

Author Timon Screech discussing the work of Carl Peter Thunberg and Isaac Titsingh at the Daiwa Foundation, 25 January 2007

According to Hopton, who produced the English translation of the Resa, Thunberg did not write with "the greatest elegance or precision" but "had the strictest regard for truth." Certainly Thunberg's account of his stay in Japan contains much of interest and information about Japan which added significantly to what had been known in the West about Japan hitherto. Thunberg rightly emphasised that Japan had changed in the century which had passed since Engelbert Kaempfer had been in the country in the final decade of the seventeenth century and whose History had appeared in 1727-8. But, as Screech points out, Thunberg's account of Japan was at times, e.g. in his description of religion in Japan, little more than "fiction."
The following description of the Japanese by Thunberg, which contains twenty-five adjectives, has, according to Screech, "to be read as Thunberg's polemic. Many of the comments are flatly contradicted by his own remarks elsewhere": "The Japanese are in general intelligent and provident, free and unconstrained, obedient and courteous, curious and inquisitive, industrious and ingenious, frugal and sober, cleanly, good-natured and friendly, upright and just, trusty and honest, mistrustful, superstitious, proud and unforgiving, brave and invincible." In his preface Thunberg had said of Japan with rather less hyperbole: "Here…are found both useful and pernicious establishments, both rational and absurd institutions, yet still we must admire the steadiness which constitutes the national character, the immutability which reigns in the administration of their laws and in the exercise of their public functions, the unwearied assiduity of this nation to do and to promote what is useful…"
His descriptions of events during his stay and of what he saw in Japan are more interesting than these generalisations. I particularly liked his account of how the Dutch tried to smuggle goods into Nagasaki. The captain "dressed himself in a blue silk coat trimmed with silver lace, made very large and wide and stuffed and furnished in front with a large cushion… the captain was frequently so loaded with goods that when he went ashore he was obliged to be supported by two sailors, one under each arm." However the Japanese officials had rumbled what was going on and put a stop to such subterfuges.
Japanese bureaucracy must have added hugely to the expenses of the Dutch trade. The reverence for precedents, which anyone who has served in Japan knows is still very much part of bureaucratic life, was strong among the Japanese bureaucrats controlling the movements of the Dutch. Thunberg as a botanist wanted to explore for plants in the neighbourhood of Nagasaki. All sorts of obstacle were thrown up. The Japanese looked for precedents and discovered that many years earlier an assistant surgeon had been given permission to look for plants. At first this was regarded as sufficient grounds to give Thunberg the necessary permission. "But on closer examination, it was found that the surgeon had been only a surgeon's mate and that consequently I, as principal surgeon, could not enjoy the same privilege!"
Readers of Kaempfer will recall that when he was a member of the Dutch mission to Edo they were forced to act, dance and sing for the amusement of the court. In Thunberg's case the head of the mission merely had to make formal obeisance to the shogun and the mission to pay their respects (and of course give presents) to the various senior officials.
Thunberg's descriptions of life at the Dutch factory in Nagasaki and of their journey to Edo are very readable and greatly help us to understand what life was like in Japan over two centuries ago.
Related book: Secret Memoirs of the Shoguns: Isaac Titsingh and Japan, 1779-1822,