The Etchings of Bernard Leach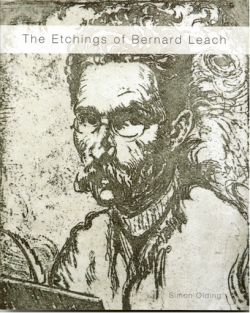 By Simon Olding, with a foreword by Emmanuel Cooper, Crafts Study Centre, University of the Creative Arts, and the Leach Pottery, St Ives, 2010, 135 pages, 76 plates of Leach's etchings, ISBN 978-0-954374-8-9
Review by Sir Hugh Cortazzi
This book was launched at Daiwa House in London on 23 November 2010 with an explanatory talk by Professor Olding. Dr Julian Stair, a potter and writer, took the chair. Professor Olding, who wrote the introductory essay, reminded his audience that while Bernard Leach is best known as perhaps the leading British craft potter of the twentieth century he first went out to Japan to teach the art of etching. In the early years of the twentieth century Leach had studied fine art and the technique of etching at the Slade and the London School of Art. He worked under the guidance of Frank Brangwyn about whose connections with Japan Libby Horner has written an interesting biographical portrait in Britain and Japan: Biographical Portraits, Volume VII published by Global Oriental for the Japan Society in 2010 [See our review in issue 29].
During his studies Leach who was influenced by William Blake, Whistler, Ruskin and Augustus John, produced a number of fine etching of urban and rural scenes. One of his most famous etchings was one produced in 1908-9 of coal heavers in Earl's Court Road.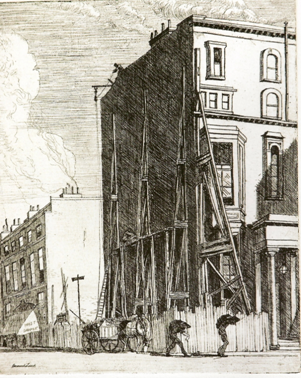 After five terms at the Slade and the London School of Art, Leach welcomed Brangwyn's peremptory command "Get out! Go to nature." He found this in Japan where he arrived in 1908 and was soon inspired to depict aspects of the Japanese landscape in his etchings. He was also clearly influenced by Japanese artists such as Hiroshige and Hokusai both in the composition of his landscapes and the movement which he depicted in some of his etchings. This etching of a storm in 1913 is a good example.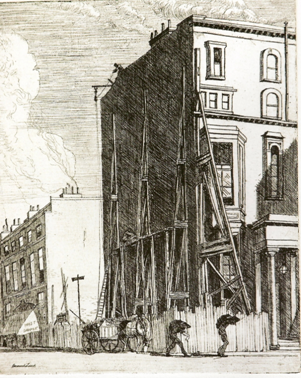 One of his closest friends in Japan was the artist and potter Kenkichi Tomimoto [富本憲吉] who came from a village near Nara. One of Tomimoto's favourite motifs was a simple Japanese cottage or barn. The following etching by Leach in 1912 is of a farmhouse in Tomimoto's village.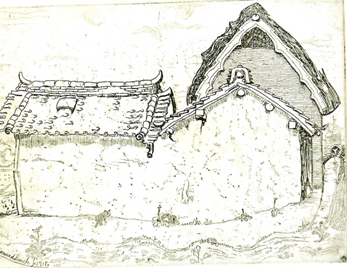 Leach's feeling for the Japanese landscape is particularly apparent in this sensitive etching of 1918 of the lagoon at Taganuma, Abiko.
Leach also produced some fine etchings during his time in China such as the following of Chen Mun Gate, Peking in 1918.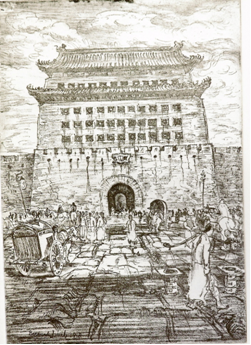 Leach drew figures with similar dexterity. These included self-portraits such as that on the cover of the book as well as of a number of women with whom Leach came in contact. The following portrait probably of his friend Reginald Turvey is a good example of his ability as a portraitist.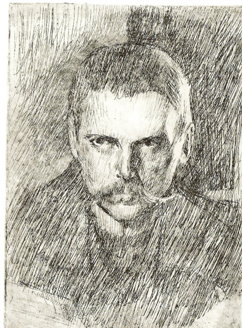 But perhaps the most charming etching of all in this collection is the following of his son David Leach dated 1920.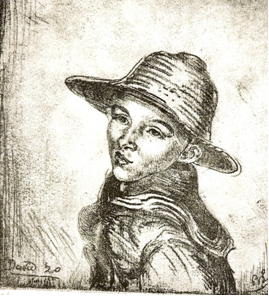 Some of his etchings were forerunners of designs which he developed for his pots such as this.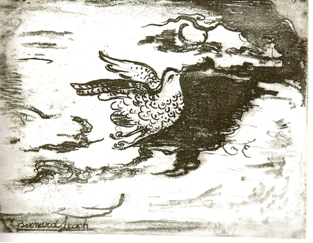 Leach gave up producing etchings in the early 1920s preferring to concentrate on pottery and drawing of which he was a master. But he used his etchings as gifts to friends until the end of his life.
This book brings together the etchings which have survived at the Craft Study Centre to which Stella and Nick Redgrave donated 65 of the surviving metal plates which Leach had collected and stored at St Ives. According to one source some were kept under his bed and others in sacking in the attic.
The author hopes that the publication of this collection of Leach etchings will lead to the discovery of other etchings in private collections. Anyone attracted by Bernard Leach as a potter will want to have a copy of this well produced publication.