Tokyo Commute, Japanese Customs and way of Life viewed from the Odakyu Line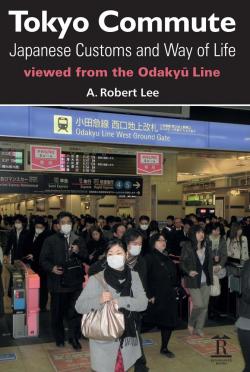 By A. Robert Lee with line compositions in colour by Yuriko Yamamoto, Renaissance Books, Folkestone, 2011, 214 pages including glossary, £16.00, ISBN 978-1-89823-06-3
Review for the Japan Society by Sir Hugh Cortazzi
This is a fun book containing amusing vignettes. Readers who have lived in the Tokyo suburbs and commuted daily on one of the many private railway lines may well feel nostalgic when they look at this little book.
The author used to commute on the Odakyu line to the Shinjuku concourse from Mukōgaoka station. He observed with amusement the daily scenes and the notices in Japanese English. These may no longer be quite as absurd as those recorded by Basil Hall Chamberlain in late Meiji Japan under "English as she is Japped" in his compendium of
Things Japanese,
but they can still raise a smile and sometimes bewilderment.
Outside a bread shop Lee saw a sign reading "Scandinavia's Smell." On a truck belonging to Zest Bakery the following was painted on the sides; "The secret of delicious is a thing flatly crushed when eating. The delicious source that exists so on the inside is spread in the whole." Like other foreigners he found the names "Pocari Sweat" and "Calpis" for soft drinks unappealing. The advert "Kirin sparkling hop" raised an eyebrow. He was amused by a notice in the train which instructed him to "Be careful in case of an emergency stop being made to avoid an accident" and by a temporary notice while repairs were being made which instructed him: "Please use elevator to go up to the underground concourse."
Some advertisements by Japanese companies struck him as odd "Bridgestone –Let's green drive," but foreign companies could be equally strange e.g. "Braun-Morning Report." In Narita duty free he saw the following notices "Be nice or leave hanging pendant," "Diesel Male Perfume: Evel for life." A shop selling Shiseido cosmetics had some "Shimmer black eye palette."
Some of the conversations which he overheard and which he describes as "Plain old-fashioned, non-stop natter." often sounded peculiar. Of course practically everyone was constantly on their mobiles
(keitai
Lee includes many literary allusions which may appeal to some intellectual readers. He describes various excursions and local sites, but this is not a guide book. The drawings are evocative. Overall the book would have been improved by more rigorous editing.
This book is likely to appeal more to old Japan hands than to someone who has never been to Japan and who might find it puzzling.