Policy Entrepreneurship and Elections in Japan: A Political Biography of Ozawa Ichiro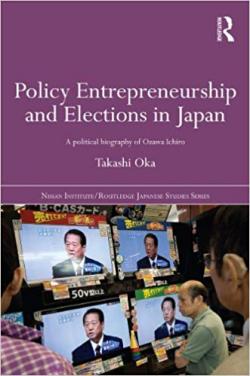 By Takashi Oka, Nissan Institute/Routledge Japanese Studies, 2011, 210 pages, £85.00, ISBN-10: 0415587522 and ISBN-13: 978-0415587525
Review by Sean Curtin
Love him or loathe him, but you certainly cannot ignore Ichiro Ozawa, one of Japan's most enduring and influential politicians of the last few decades. Takashi Ota, veteran journalist and former Ozawa aid, has produced the first English language political biography of this pivotal figure in modern Japanese politics. In this superbly researched and insightful work, Dr. Ota traces Ozawa's career all the way from childhood to the present, charting its rollercoaster-like ups and downs along with the spectacular twists and turns. He seeks to define Ozawa the man, understand his core political philosophy and explain his actions. Making use of extensive interviews with key political players and other source material, he constructs a comprehensive profile. Is Ozawa, as his critics claim, an old-style, power-hungry, money-centred political dinosaur or a genuine reformer and political visionary who has reshaped Japanese politics or is he perhaps something in-between? Ota's mission is to answer this and other crucial questions about this key political figure.
Ozawa's incredible political journey has taken him from being one of the most powerful figures in the Liberal Democratic Party (LDP) to leader and still powerful figure in the now governing Democratic Party of Japan (DPJ). Ozawa was the LDP Secretary General in the administration of Prime Minister Toshiki Kaifu (海部 俊樹) and de facto deputy leader. When he became Secretary General in 1989 under Kaifu (August 1989 – November 1991), he used his position to try to change the electoral system and create a more balanced political dynamic (pages 25-38). According to this book Ozawa declined an offer to become LDP Prime Minister in October 1991 (pages 59-60).
Ozawa has distinctive ideas and a clear vision of Japan becoming what he terms "a normal nation." He set out these principles in his influential 1993 book "Reform Plans for Japan" (日本改造計画)* in which he sees Japan taking a more active role in international affairs (see pages 39-56). Ozawa is a proponent of the independence of the individual as opposed to the more mainstream Japanese trend of emphasizing the importance of the group. He is also committed to electoral reforms and the establishment of a two-party system, something he has largely achieved. Ota observes, "Political reform within Japan and active involvement and participation in the international community became the twin themes of Ozawa's political career (page 25)."
In 1993 frustration with the moribund LDP and political friction with his rivals led Ozawa to jump ship along with another prominent LDP lawmaker, Tsutomu Hata [羽田 孜], together they formed the Japan Renewal Party (新生党). This action brought down the long ruling LDP and helped usher in the first non-LDP government since 1955 (pages 57-68). Ota explains that Ozawa was instrumental in bringing together a coalition of parties to form the new government and selecting Morihiro Hosokawa (細川 護煕) as Prime Minister instead of putting himself forward. Ota writes, "Ozawa willingly scarified, at least for the immediate future, his own prime ministerial ambitions in order to create a united political force with enough public credibility to replace the LDP (page 110)."
However, Ozawa's coalition was short-lived lasting just 9 months, but by changing the electoral system during this period its long term impact changed the face of Japanese politics (page 69-80). He spearheaded "a revolt within the ruling Liberal Democratic Party, which ended thirty-eight years of one-party dominance and inaugurated a period of shifting coalitions which has continued even after the DPJ's landslide victory in the August 2009 general election (page 29)."
After the coalition's demise in 1994 Ozawa was ejected into political opposition for most of the intervening 15 years (pages 81-99). Yet, after a spell in the political wilderness he returned to power as the leader of the Democratic Party of Japan (DPJ) and later as DPJ Secretary General after the landslide election of 2009 (pages 128-140). Ota masterfully chronicles the incredible zigzag journey Ozawa undertook to arrive at his current destination, seeing him as a policy entrepreneur who uses his talent to achieve institutional change. Ota utilizes John Kingdon's theoretical "critical junctures" approach to interpret his actions.
The basic argument of the book is that "by precipitating the [1993] election, winning agreement on the new Prime Minister, and changing the electoral system, Ozawa transformed the dynamics of political competition in Japan to bring about a nascent two-party system (page 67)." Ota states, "the single-seat system is most likely to be considered Ozawa's crowning achievement, one that changed the nature of leadership both for the ruling party and the opposition in the kind of two-party system that Ozawa envisaged and Koizumi largely achieved (page 157)."
The book is packed with insightful analysis, for example, it foretells of the political gridlock of a divided Diet, Ota observes, "There is an upper house election to be fought in July 2010, the outcome of which will determine the longevity of the DPJ's hold on power (page 11).
Ozawa has been on an incredible political journey and remains hugely influential. Despite his present difficulties the Japanese media still refers to him as "the kingpin" and "shadow shogun." In an Epilogue, we are brought up to date with the current chapter of the Ozawa saga, his indicted in a political funding scandal, something he may emerge from unscathed. The author confides, "I believe it is still possible for Ozawa to become Prime Minister, once he is cleared of the charges brought by the citizen's panel (page 165-66)." While not everyone will agree with this assessment, it is difficult to disagree with Ota's concluding remark that Ozawa "deserves his place in Japanese history as a statesman who became the agent of long-standing political change (page 166)."
Note
* Ozawa's 1993 book Reform Plans for Japan (日本改造計画) was translated into English with the title Blueprint for a New Japan: The Rethinking of a Nation, by Ichiro Ozawa, translated by Louisa Rubinfien with introduction by Senator Jay Rockefeller, Kodansha International Ltd, 1994, 208 pages, ISBN-10: 4770018711. See our review of the Japanese language version in issue 35.