Britain and Japan: Biographical Portraits, Volume VIII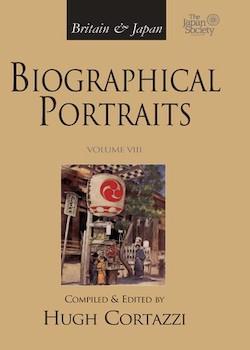 Compiled & Edited by Sir Hugh Cortazzi
Global Oriental in association with the Japan Society, 2013
768 pages, ISBN: 978-90-04-24602-7
(available free to Japan Society members)*
Review by Sean Curtin
---
Britain and Japan: Biographical Portraits – Volume VIII marks a significant milestone in the acclaimed Biographical Portraits project which now strides towards its second decade of publication with the first volume coming out in 1994. The well respected series primarily profiles people who have enhanced and contributed to various aspects of Anglo-Japanese relations from the time of the Meiji Restoration (1868) to the present day. This new volume along with the previous Biographical Portraits books and associated Japan Society publications brings the number of individuals chronicled to well over 400, an impressive achievement which makes this series such a significant reference source.
This latest work is brimming with energy and represents the largest volume in the series to date. As in the previous editions, the individuals profiled cover a broad spectrum of professions, in this particular volume ranging from the art world (Part three) to toponymy (John Mathews James – pp. 649-662 by Sebastian Dobson). The featured personalities range from the well known (Benjamin Britten – pp. 419-431 by Jason James, Virginia Woolf – pp. 383-393 by Noriko Kubota and Beatrix Potter pp. 394-402 by George Wallace) to the lesser known (Tsurunosuke Matsubayashi – pp. 312-323 by Shinya Maezaki, Charles Alfred Fisher – pp. 544-558 by Gordon Daniels and George Gorman pp. 507-524 by Deborah McFarlane). As the very first editor of the series, Ian Nish, observed in Volume I, "there is no prototype" for those documented in the series.
As with previous volumes, writing a comprehensive review of a work containing such a plethora of diverse essays is an impossible task. One can only illuminate a tiny fraction of what this impressive work has to offer. Keeping this important caveat in mind, the following observations merely reflect my own personal interests and the essays I found particularly fascinating. In reality, I barely scratch the surface of this superb work.
While many prominent figures are covered, the profiles of the lesser known personalities are perhaps the most appealing aspect of this work and certainly make for gripping reading. They demonstrate that from Japan's global re-emergence in the late 1860s ordinary people from both countries have worked extremely hard and dedicated themselves to building lasting cultural bonds.
Some of my favorite examples of the life stories of relatively obscure characters are Hansen's disease (leprosy) activist Mary Helena Cornwall Legh (pp. 609-622 by Shigeru Nakamura), wartime RAF pilot Ron Duckenfield (pp. 636-643 by Koji Hoashi) and the Japanese garden designer Taki Handa (pp. 332-350 by Jill Raggett, Yuka Kajihara-Nolan & Jason Nolan). Thanks to the efforts of these almost forgot people, and many others like them, the ties between the two countries have blossomed. Their lives illuminate the intricate centuries-long weave that has created the fine tapestry of today's Anglo-Japanese relationship.
While the book covers a diverse range of professions and institutions, there are some unifying features and themes which emerge from the work as a whole. The Japan Society is one such unifying force cropping up in a host of essays spanning over a century. This fact reminds us that since its founding in 1891, the Japan Society has been at the forefront of Anglo-Japanese relations. For example, in this publication we can effortlessly cross a century by reading about a lecture given by Douglas Sladen in 1912 (p. 367) to the Society and introduced by its chairman Sir Joseph Dimsdale and then enjoy the recollections of current Society CEO Heidi Potter in 2012 about Charles Dunn (pp. 526-528).
As a long-standing member of the Society, who has worked with four chairmen, I was especially fascinated by Anthony Best's analysis of Major-General F.S.G. Piggott (pp. 102-116) who led the Society from 1958 to 1961, succeeding Ambassador Robert Craigie who headed the reconvened Society from 1949. Piggott was fluent in Japanese, having lived in Tokyo for four years as a child when his father, Francis Taylor Piggott, was stationed there. Upon returning to the UK Piggott senior was a central figure in the founding of the Japan Society in 1891. Piggott himself served twice as military attaché in Tokyo but according to Ambassador Sir Robert Clive (1934-37), "in regard to Anglo-Japanese relations his feelings have outrun his sense of realities and that his judgement is warped (p.105)." Best is also highly critical, describing his major fault as "undiscriminating love of Japan (p.113)." This essay illustrates the need to temper one's enthusiasm with a strong dose of objectivity. Piggott remained dedicated to improving bilateral relations his entire life. His son, Major General Francis James Claude Piggott, carried on the family Japan connection from a different perspective, fighting against Japan during the war and in 1946 was posted to Japan as an intelligence officer on the staff of the Supreme Allied Commander, General Douglas MacArthur.
Another fact which emerges from the various articles is that while many of the Japanese featured in this volume spent some time in London, the majority lived in various parts of West London. Thus the artist Busho Hara (pp. 235-246 by Hugh Cortazzi) spent time in Willesden Green (which hopefully had some green in his time), Chuji Kurihara (pp. 247-256 by Libby Horner) seems to have enjoyed life in Shepherds Bush along with several other Japanese artists who also loved nearby Hammersmith, while Kenkichi Tomimoto (pp. 303-311 by Hugh Cortazzi) stayed in the more upmarket South Kensington with a small community of fellow designers and artists. It might be possible to produce a historic map of Japanese lodging, which from this book would appear to centre on West London.
Having been in Japan during the early nineties, I especially enjoyed Arthur Stockwin's essay on Prime Minister Kiichi Miyazawa which succinctly summed up his long political life and philosophy. In many respects the 2013 Liberal Democratic Party (LDP) leadership, as represented by PM Shinzo Abe, Shigeru Ishiba and Taro Aso, are the antithesis to the Miyazawa outlook (p. 48). Yet Stockwin reminds us that Miyazawa, who was a strong supporter of the war-renouncing constitution, was actually responsible for passing legislation which allowed Japanese troops to participate in UN peacekeeping missions.
Ian Nish, Editor of the first two volumes of the Biographical Portrait series, produces a fascinating essay on Edward Grey (pp. 73-84), the long serving Liberal Foreign Secretary (1905-1916) and his stance towards Japan. Grey holds the record for the longest continuous tenure of any person in the office of Foreign Secretary, so his approach towards Japan shaped policy for decades. I got the impression that the capable Grey, Eton and Oxford educated, could fit perfectly into the current cabinet especially as the majority of ministers have an identical educational background.
David Burleigh provides a stimulating look at the work of the travel writer James Kirkup and poet (pp. 370-382) while Dr. James Hoare, a former editor of the Biographical Portrait series, produces an insightful piece on Britain's consular service in the Japanese Empire (pp. 130-146).
The current editor and complier, Sir Hugh Cortazzi, has divided this new work into eight thematic sections which cover: (1) Politicians and Officials; (2) Lawyers; (3) Artists, Art Collectors and Art Dealers; (4) Potters and Garden Designers; (5) Writers; (6) Music, Sport, Film and Media; (7) Scholars; (8) Other Notable Individuals plus two impressive appendices (The Times and Japan in the Nineteenth Century by Sir Hugh Cortazzi and a bibliography by Ian Ruxton of Publications from the Satow Papers in Chronological Order). Additionally, there are two select bibliographies, one in English and one in Japanese, which cast light on British people who lived in Japan and Japanese who lived in the UK.
This new publication also has a very handy up-to-date index at the front of the volume that lists all those people so far covered in the entire Biographical Portraits and related series, where to find each one as well as a list of the authors of the respective essays.
Long term it is hoped that the entire series will be available to access on the internet, which will make it an incredibly useful global scholarly resource. Certainly, as I add volume VIII to my bookcase to sit alongside the preceding seven, equally weighty, volumes the merits of online access are even more apparent as are the structural limitations of the book shelf.
Anyone familiar with Japan is certain to find several essays of special interest within this generally fascinating volume which boasts over forty distinguished English speaking and Japanese contributors furnishing fifty-two unique portraits of known and lesser known personalities. This volume is particularly noteworthy because of the large number of Japanese contributors, demonstrating how this series has truly become a vibrant bilateral venture.
*Note
The Japan Society is able to offer copies of Biographical Portraits VIII free of charge to members of the Society while stocks last. Members may obtain a copy from the Japan Society office on request, either in person or by post at a cost of £5.00 (UK residents).