YoKOYA Launch Party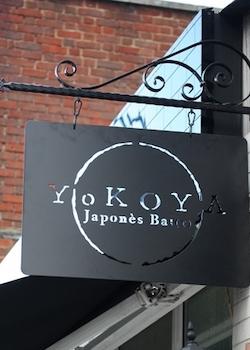 Review by Mike Sullivan
---
On Monday 7 October 2013, YoKOYA restaurant staged a launch party to announce to London that a new kind of Japanese restaurant had arrived. It is located near Camden and Mornington Crescent tube stations on Delancey Street, it is bit of a hidden place, but this is also part of its theme – to be a hidden gem which people can enjoy discovering. The owner, chefs, and everyone who works there are extremely friendly; during the launch party they made sure to speak to everyone present to talk about their exciting concept. As the head chef was so keen to point out, in most Japanese restaurants in the UK people usually just have a couple of large dishes, however in a typical restaurant in Japan customers normally would choose a number of small dishes. In this way it is quite similar to Spain, and in fact the whole popular concept of Spanish tapas restaurants has caught on quite quickly in the UK. With this in mind YoKOYA is attempting to redress the balance with its tapas theme which is more in keeping with having a small bite to eat in a traditional Japanese restaurant.
At the time of the launch party, the restaurant was still in the process of being prepared for its proper opening, but it was possible to see what it would look like with a small counter and space for seating near the entrance and then downstairs a larger area for seating with a bigger counter. This gave the restaurant a very cosy and intimate atmosphere, and the owner stressed how it is very typical in Japan to be able to enjoy a drink and a bit of food alone. She stated she wanted to bring some of that culture into London. For this purpose, the venue has been designed perfectly as it was easy to imagine being able to come here alone for a drink and some food. With its very cosy atmosphere both couples and small groups would also really enjoy eating and drinking here.
The launch party itself consisted of an amazing array of delicious food spread over the large downstairs counter with Japanese drinks and well selected wines to match. Everyone was free to choose what they wanted to eat and either sit or stand while chatting to their friends, other invitees or the staff themselves. It was one of the more enjoyable restaurant launch parties that I have been to, and I think this was partly due to how friendly all of the staff were and also to the great atmosphere that the restaurant exuded. As the evening wore on more and more delicious food was brought out and the party ended up lasting until way past midnight.
On the 14th of October YoKOYA had its official opening and it has been doing steady business since then, however this isn't much of a surprise as they really have hit upon a unique concept of combining small dishes and an intimate atmosphere within a popular Japanese theme. The menu, and prices, all reflect this as well and included a good selection of dishes. For example, stuffed cabbage with cheese, weekly chef's choice spaghetti, beef cooked with butter and soy sauce, and seafood such as grilled prawn, sardine or mackerel. It is easy to imagine that with such delicious sounding food choices, combined with the fact that they are small dishes at reasonable prices, that it is more than likely that customers will want to choose more than a few items from the menu. It truly is a hidden gem and I am looking forward to 'discovering' it again in the near future.