See You Tomorrow, Everyone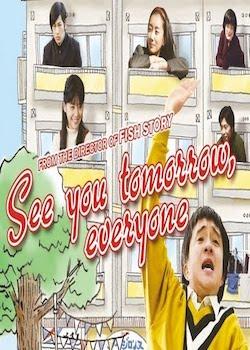 Directed by Yoshihiro Nakamura(中村義洋)
2013, 120 minutes
currently out on release on DVD from Third Window Films
Review by Mike Sullivan
---
SPOILER ALERT: CONTAINS PLOT SUMMARY
The first movies by Yoshihiro Nakamura in 2005 were rather low budget horror movies, and if he had stuck to that genre perhaps his talents would never have been fully realised, luckily enough for us he did manage to make the jump from horror to more mainstream movies which have proven to be very popular. His movies in recent years can instantly be recognized just by their titles, such as The Foreign Duck, the Native Duck and God in a Coin Locker and Fish Story amongst others. He is a director who likes to weave together different stories which on the surface seem to have no or little connection but in fact are very deeply connected. His recent movie, See You Tomorrow, Everyone, features Gaku Hamada (濱田岳) as the main character Satoru Watarai, this is the fifth time that he has starred in a Nakamura movie. It seems that Hamada really fits the kind of character that Nakamura is often looking for, a quiet man lacking in confidence but who often proves to be stronger than he looks. However, at the risk of typecasting Hamada is the perfect actor for this very interesting movie.
It begins with a newsreel about the 'Projects,' a housing estate where people can live, work, shop and go to school without ever leaving the local area. Happy families and housewives are shown living and shopping in this worker paradise before the scene changes to Satoru's bedroom. 12 year old Satoru has graduated from school but is refusing to attend junior high school, a woman who appears to be a teacher tries to persuade him by telling him about the benefits of school, but he refuses to budge. The school is outside of the projects and he is more than happy staying where he is, furthermore he has already decided on his future as he wants to work in the cake shop that is located nearby. His mother permits him to not go to school and so with this not so strange introduction to Satoru's life, as children who refuse to go to school isn't that exceptional to be considered rare, we find out how he spends each day.
The surprisingly active Satoru is up at 5am to exercise, he learns English with the radio, has breakfast with his mother and cleans up, later he does various other activities including reading before waiting for his former classmates to return from high school. One of the few noticeable anomalies at this point is that every time he sees one of his former classmates (107 children altogether) we immediately see a drawing he made of that person as a child with their name and desired future career and also that every evening he goes on patrol and checks who is home or not at all of housing blocks in a method akin to school attendance. At one point he notices a boy skipping school and invites him to his house to watch TV as the boy can't go home. Thus Satoru becomes quite good friends with Noriaki Sonoda, played by Kento Nagayama, who often goes on patrol with him and seems to have a high opinion of Satoru, especially after he starts trying to learn karate. Meanwhile one of Satoru's good friends, Haru who is played by Yuri Matsushima, lives next door and they often communicate to each other that they want to talk on the balcony by ringing a bell that they have attached to both sides.
As each year goes by the number of the 107 children drops as they move out of the projects, as each one leaves Satoru and others come to say goodbye, in the first scene when we see them seeing off someone who is leaving a group of them are on a long stairway from which people can walk down the hill on which the housing blocks are located and reach the street below. While everyone else is halfway down the stairs waving goodbye, Satoru is at the top of the stairs. He then shouts down to everyone that another person is now leaving as well, so they all rush off back to the housing blocks to say goodbye. In this scene it appears that he is staying at the top of the stairs to keep an eye on everything and the time, so that they can say goodbye to both of their former classmates. However, as in most Nakamura movies not everything we see is exactly as it appears.
Satoru manages to get a job at the cake shop and year by year his skills as a pâtissier steadily improve, for a while he fools around with Haru next door, but once she goes to university she is no longer interested in him. At a reunion party for all his classmates, held within the projects because of Satoru, he starts to talk to a girl he always liked. This is Saki Ogata played by the beautiful Kana Kurashina, and the two start dating. As time goes by this turns into love and eventually they get engaged, however although she appears to be happy to just stay in the housing block area and supports the fact that he won't leave as time goes by it becomes increasingly obvious that the outside world calls to her. As Satoru reaches his mid-twenties, the number of his classmates still living in the projects increasingly drops and with tenants also moving out and more single people and foreign people moving in. Satoru's friends gradually disappear, the housing estate becomes increasingly dilapidated, and shops begin to close. Soon whole blocks of housing are shut down and prepared for demolition and the remaining inhabited housing blocks begin to look quite deserted.
Throughout the film the viewer is made to ask themselves whether Satoru is normal or not, so many of his activities and his characteristics appear perfectly normal, but his obsessive behaviour regarding patrols and becoming stronger increasingly seem quite irrational. We have to ask why he won't leave even as those around him disappear, and what needs to happen for him to finally take the decision to experience a wider world. At two hours the movie is a bit long, but the final scenes of the movie bring everything into focus and are more than worth the wait.