The Hunting Gun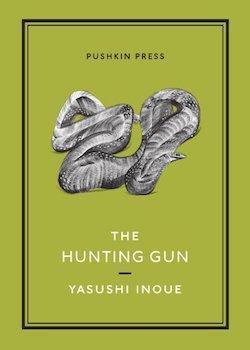 By Yasushi Inoue
Translated by Michael Emmerich
Pushkin Press (24 April 2014)
ISBN 9781782270010
Review by Lucy Kikuchi

---
The Hunting Gun, published in 1949, marked the start of Yasushi Inoue's career in fiction after many years of working in journalism and publishing. And what a fine start it was. Although Inoue comments in the afterword that his breakthrough novellas The Hunting Gun and Bullfight "carry within them…[a] youthful ungainliness", this seems an incredibly modest appraisal. The novella is beautifully written and credit must be given to Michael Emmerich who has done full justice to Inoue's work with an elegant translation.
The story revolves around three characters: a husband (Misugi), his wife, his lover, and his lover's daughter. Letters written by each of the women to Misugi offer three different perspectives on his affair, each in turn (mis)interpreting events, conversations and characters. A word of warning here, though: the synopsis written on the inside sleeve of the Pushkin Press edition reveals what is, perhaps, a little too much plot detail; avoid this and you may further enjoy the high level of intrigue Inoue successfully weaves into the plot.
Perhaps one of the main themes of The Hunting Gun is the disappointment of love. This is not only true for a husband or wife, but lovers, mothers and daughters, and young people who are yet to experience "love". Shoko, the daughter of Misugi's lover, is at a young age devastated to learn that romantic love is flawed, and Inoue suggests at certain points throughout the story an air of disappointment surrounding the relationship between herself and her mother.
It's interesting that Inoue writes most of the novella through the voice of women who comment on a "woman's suffering" or who claim to be "reaping the punishment…due as a woman incapable of enduring the pain of loving". Inoue examines the complexities of love from the female perspective (especially for women of this era) and although Misugi is given a voice, he is always aloof, and his emotional state mostly unattainable.
As a story set in early postwar Japan, the language between characters is more formal than we would expect today, but in a way that properly reflects the customs of the day. At times, the prose feels almost poetic: "Oh, what humility! The modesty of a new wife of twenty, so pristine only the curving lines of a work of pure art could express it", but Inoue's words are a joy to read. A tanka (a type of short Japanese poem), which Emerich translates masterfully, offers a moment of bitter poignancy as Misugi's wife describes her feelings of rejection, and haunting words and imagery appear throughout the story which can be quite breathtaking.
As the story unfolds and all the parts fit into place, you may be left wanting to reread The Hunting Gun. Since it is only one-hundred and twelve pages, this is easy to do, and there is enough depth to the story and expressiveness to the writing to make a second read equally as satisfying as the first.