Mr Potsunen's Peculiar Slice of Life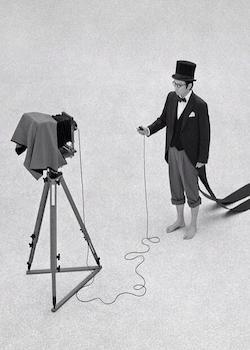 By Kentaro Kobayashi
Leicester Square Theatre
3-4 February 2015
Review by Mike Sullivan

---
Kentaro Kobayashi (小林 賢太郎) is a famous Japanese comedian and performer who first came to the attention of the world in a series of 'The Japanese Tradition videos' seven years ago. In these videos Japanese culture and tradition were amusingly reinterpreted for the benefit of foreigners. Kentaro is well known for being a talented mime performer, manga artist and more. In 2012 he had a tour in France with Potsunen which was documented by NHK in 'The Art of Laughter' and this year he has returned to tour not just in France but also for two exclusive nights in London with Mr Potsunen's Peculiar Slice of Life.
He has realized the entire show by himself, which includes writing the story and performing all of the parts in it, and it is unhindered by any language barriers. Mr Potsunen himself rarely speaks, while some lines of text in Japanese are accompanied by an English translation. It is a credit to Kentaro that he has created a show which can be understood by anyone without the need for descriptive dialogue or text.
Leicester Square Theatre is a fitting location for Kentaro's performance as it has also hosted the amazing SIRO-A, and this intimate stage allowed the audience to really see him up close. Unsurprisingly it was a packed house and it was with baited breath that the audience waited for the show to start. As Kentaro came on stage it was possible to see a touch of nerves, his hands shook a little, but he quickly took us into the world of Mr Potsunen.
The stage itself just consisted of a projection screen with a space in front; the screen was used for videos, pictures and text, while Kentaro mimed a lot of actions that took place in front of the screen. For this show there was also a Kuroko (person in black) dressed in traditional clothing from Kabuki theatre who moved some props and performed as some props, most amusingly as a camera.
It is hard to imagine the immense pressures of doing a solo show with few props, but as a consummate artist he handles it well and this combines well with the fascinating character that Mr Potsunen is. In his lonely life he is surrounded by creativeness and marvels, and this story begins with his interest in insects. Using a projection screen, which is an important component for Kentaro's shows, the insects evade his net and ultimately start flying at him.
One of the central aspects of the story is of a firefly like insect which Mr Potsunen does capture and look after. Taking it back to his home it shows a penchant for drinking sake before falling asleep. Throughout the show it gradually gets bigger and bigger, while Mr Potsunen goes through peculiar events which showcase each of his talents.
He mimes putting together an incomprehensible mechanism with the instructions shown on the screen, at other times elaborate art created by Kentaro on the screen represent the world that Mr Potsunen lives in while towards the end we see a video of the famous finger walking that often appears in Kentaro's shows. As an ingenious device to show journeys which can go over bridges, up mountains, down into the depths of oceans and more, Kentaro uses his hand to 'walk,' 'jump' and 'swim.' This is accompanied by rather addictive music which is a staple of his shows.
It is hard to provide an example with which to compare his show. Some of the animation on the screen is reminiscent of Monty Python and his interaction with the animation is along the same vein as SIRO-A, but the story itself is simply unique. At times it is almost dreamlike with a slightly sinister figure wearing a Noh Mask of an old man, but at nearly all times it is comedic.
At just over an hour it feels a little short, but considering that it is a solo performance it is enough time for him to take us into Mr Potsunen's world and experience his amazing adventures. One can only hope that he will be back again soon and for more than two nights!