Biographical Portraits, Volume X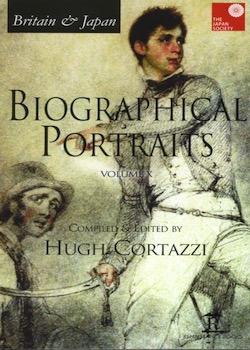 Compiled & Edited by Sir Hugh Cortazzi
Renaissance Books in association with the Japan Society, 2016
ISBN-13: 978-1-898823-51-3
Review by Sean Curtin

---
Britain and Japan: Biographical Portraits, Volume X marks a new high point in this excellent series which profiles people, organizations, and themes related to Anglo-Japanese engagement. This new volume is bursting with energy, containing sixty-nine fascinating articles encompassing a breathtaking spectrum of subject matter. It also represents the largest volume in the series to date. The key standard bearers, Sir Hugh Cortazzi, Ian Nish, Jim Hoare, Gordon Daniels and Paul Norbury, who have each devoted over twenty-five years to developing this impressive endeavour since the first volume in 1994, all contribute to this new volume. Its publication also marks a significant milestone in the project's evolution with the Biographical Portraits series now available to access online, making it an incredibly useful global research resource.
As in the previous editions, the majority of profiles are of individuals covering an ABC to XYZ of professions and vocations, in this volume ranging for example from authors (Peter Martin by Mike Barrett), broadcasters (John Newman by Ian Ruxton), & consuls (John Frederick Lowder by Jim Hoare) to [E]xeter (Archdeacon Hutchinson by Hamish Ion), yachtsmen & zoologists (Alan Owston by Mike Galbraith). There are a number of unusual professions which particularly caught my eye, such as the snow scientist Ukichiro Nakaya, profiled by Jenny White, the Buddhist idealist Junjiroo Takakusu described by Kazunori Iwagami & Paride Stortin, and netsuke collectors bought to life by Rosemary Bandini. As with earlier volumes, no single review could possibly do this work justice as its sheer scope and content are too immense. with this caveat, here are some of my observations on the latest instalment in this prestigious series.
The English maritime pilot William Adams provided the promethean spark for Anglo-Japanese relations, arriving in Kyushu in 1600 when his Dutch ship Liefde foundered. The first official British ship to reach Japan, the Clove under Captain John Saris, arrived in Nagasaki in June 1613. This short lived chapter ended in 1623 with the closure of the British outpost in Hirado and the subsequent period of Japanese isolationism. There was scant direct contact between the two countries for 230 years until the arrival of Admiral Stirling in Nagasaki in 1853. However, there were some almost forgotten efforts to penetrate Japan's exclusion. Two such endeavours are highlighted in the book's first two essays, each by Professor Timon Screech. One charts the October 1808 brief incursion by HMS Phaeton under the command of Fleetwood Pellew and the other describes the frustrated attempts by Sir Stamford Raffles to open trading relations by sending missions to Nagasaki in 1813 and 1814. Both articles enhance our historical understanding of how the bilateral dynamic developed.
One of the unique features of the Biographical Portraits series is that it not only covers well-known historic figures, but also illuminates the lives of those at the coal face of Japan-UK relations, without whom the relationship would not be so strong, prosperous and beneficial. One such early figure is William Henry Smith (1838–1884) whose life is researched by Mike Galbraith. Smith first arrived in Japan as a Royal Marines officer in charge of the British legation guard; upon leaving the service he decided to stay in Japan, pursing a wide variety of occupations. He became known in Yokohama as 'public-spirited Smith' for his contribution to the local community.
I was fascinated by the 1907 motoring adventures of Thomas Bates Blow (1853–1941), the subject of an entertaining essay by Ian Chrystie. He charts Blow's arduous journey from Kyoto to Karuizawa on roads 'with hairpin corners which are so sharp that the car would not go round without reversing' Such conditions seem unimaginable in today's car-oriented Japan. Blow lived in Kyoto, owning the very first automobile in the city, a 1904 7 HP Swift. There's an amazing photo on page 111 taken in 1904 of Blow and his wife in the car outside the Yasaka (Gion) shrine. A reproduced letter he wrote to Motoring Illustrated in November 1907 records the numerous challenges of early motoring in Japan.
At the other end of the scale are more public figures like the MP Ernest Harold Pickering (1881–1957) who Peter O'Connor labels an 'honourable and convinced but unconvincing apologist for Japan' because of his 'uncritical admiration of Japan and almost wholesale acceptance of her political economy.' Several other more distinguished politicians are covered in this volume by Robert Morton, Andrew Cobbing, Thomas Otte and Anthony Best. The Pickering essay certainly illustrates the need for skilled diplomats on both sides.
British diplomats are well covered in this volume. Jim Hoare looks at the career of Sir Edward Crowe (1877–1960), a forgotten star of the Japan service, who was a diligent and efficient officer specializing in commercial work. He eventually became permanent secretary to the board of overseas trade in London. Hugo Read depicts the life of another faded diplomatic star, Oswald White (1884–1970), while Ian Nish looks at three consuls in Manchuria. Robert Cooper assesses Sir Fred Warner, who was Britain's ambassador to Japan from 1972–75 during which time the Queen and the Duke of Edinburgh paid a state visit in 1975. Sir Fred was certainly a colourful personality who greatly enjoyed his posting to Japan, a country where he had not previously served. His successor, Sir Michael Wilford, ambassador from 1976–80 – a period of some trade friction – is portrayed by Sir David Warren, himself ambassador from 2008–12. Sir Michael had served in China but like Sir Fred was no Japan specialist. In contrast to these two earlier predecessors Sir John Whitehead, ambassador from 1987–92, spent much of his diplomatic service life in Japan. His achievements are explored by Sir Hugh Cortazzi, himself ambassador from 1980–84, who says of Sir John, 'He brought experience, dedication and zeal into his efforts to find solutions to the trade and investment issues, which were key features of his years as ambassador, but he did not neglect the important cultural aspects of our relations.'
Japanese diplomats are also well represented with Seki Eiji, a former Japanese ambassador to Hungary, exploring the fascinating career of Fujiyama Naraichi (1915–94) whose final post was as Japan's ambassador to the UK (1977 to 1982). The achievements of Kazuo Chiba (1925–2004), who was ambassador to the UK ambassador from 1988 to 1991 are highlighted by Sir Hugh Cortazzi, who also offers some personal insights. In an in depth and well researched article, 'Young Japanese Diplomats Sent to Study at British Universities', Numata Sadaaki, who was Japan's ambassador to Canada (2004-7), provides a fascinating historical overview ranging from the first Japanese student diplomat, Hirokichi Mutsu who studied at Cambridge in 1888, to the present day. Numata also reminds us of the impressive academic achievements of the brilliant young diplomat Owada Masako, who studied at Balliol College, Oxford from 1988–1990 reading international relations before entering the diplomatic service. Her promising diplomatic career ended in 1993, when she married the Crown Prince, who also studied at Oxford, and entered the imperial household.
There are so many interesting lives illuminated in this volume. I enjoyed Joseph Cronin's piece on Basil Hall Chamberlain, a high profile early Japan scholar and writer. Cronin examines his hostility towards state Shinto and the cult of bushido. Kayama Haruno provides a fascinating account of the popularity in today's Japan of many British Victorian novelists such as Thomas Hardy, Charles Dickens and both Charlotte and Emily Bronte. While Christian missionaries from Britain were only moderately successful in Japan, they were a significant factor in the early British presence from the Meiji period up to the outbreak of World War II and therefore have been profiled in almost every Biographical Portraits publication. In this volume Hamish Ion looks at Charles Frederick Warren, Barclay Fowell Buxton and Archibald Campbell Hutchinson. Women are also well represented with interesting articles on the fascinating lives of Yasui Tetsu (1870–1945), early promoter of women's higher education, by Tomida Hiroko, Marianne North (1836-1890) by Karato Tadashi, Lisa, Lady Sainsbury (1912–2014) by Nicole Coolidge Rousmaniere, and Dorothy Britton (Lady Bouchier) by Sir Hugh Cortazzi & Paul Norbury. Other enjoyable profiles are penned by Ayako Hotta-Lister, Gordon Daniels, Richard Bowring, Peter Kornicki, Morita Norimasa and Dharini Parekh.
It's not just people who are the subject of portraits; many entities and themes are also covered. For example Peter Ackroyd looks at 'Wool in Japan' describing how this traditional British product fought off strong local competition to maintain its pole position in the Japanese market. The British Chamber of Commerce (Japan), vividly described by former director Ian de Stains, is an institution which has given invaluable support to British firms in Japan and assists efforts to penetrate the Japanese market. Its Japanese counterpart in the UK, the Japanese Chamber of Commerce and Industry (JCCI), is profiled by Patrick Macartney and Paul Madden looks at the British Pavilion. There are a diverse variety of portraits in the Business, Trade and Investment section by Clive Bradley, Yunichiro Nakajima, Peter Woodland, Yoshio Noguchi, Martin Edelshain, Ivor Cohen and Peter Bacon. Groups are also covered, such as English lawyers in Japan by Tony Grundy, early British judges in Japan by Christopher Roberts and the UK-Japan 21st Century Group by Marie Conte-Helm. Other enjoyable portraits of organisations and groups are penned by Mayu Kamide, Noboru Koyama, Colin Ellis, Mary Redfern and Libby Horner. Gill Goddard also deserves praise for producing an excellent bibliography.
Of the organizational portraits, I enjoyed the two articles on the JET (Japan English Teachers) programme by its visionary conceptual progenitor Nicolas Maclean and Japan scholar Graham Healey. JET and its British antecedent the Wolfers' scheme, have greatly contributed to forging strong Japan-UK people-to-people relations, creating better mutual understanding between the two countries and improving English language teaching in Japan. It has allowed tens of thousands of young people to go to Japan and discover it at a local level via its schools, many in rural locations. In the early years many of these JETs were the first foreigners to live in the town or village where they were dispatched. Some participants have stayed on in Japan, while others have shined in Japanese-related or completely different fields.
In their respective articles Healey and Maclean describe the mechanics of the JET scheme, how it evolved and review its overall impact. According to Healey the JET Programme is 'the world's largest people-exchange programme' with so far more than 60,000 young people from over forty countries having participated. The programme in its present form was established in 1987 as a joint venture between Japan's equivalent of the Home Office and the Foreign Office (ministry of foreign affairs). JET's creation resulted in it absorbing two much smaller pre-existent programmes, the American-oriented Mombusho English Fellows (MEF) which itself was derived from the Fulbright programme and ran from 1977 to 1986 and its UK counterpart the British English Teachers Scheme (BETS) or the Wolfers scheme which ran from 1978 to 1986. A number of those involved with JET's creation, like Sir Hugh Cortazzi, as well as former participants, are also key contributors to the Biographical Portraits series.
Including Volume X and its sister publications, some six hundred portraits have now been produced. This is an impressive achievement, which makes this unique and growing series such a valuable reference resource. While the first volume of the Biographical Portraits series came out in 1994, if you combine its sister Japan and Britain publications, it forms a fifteen-volume project stretching back 25 years. The entire enterprise has been built thanks to an army of dedicated, unpaid writers and researchers who have tirelessly given their time and energy to create this impressive body of work, which can now be accessed online thanks to the sterling efforts of the Japan Society.
Sir Hugh Cortazzi, who has been involved with all of the publications as either an editor, compiler, contributor or any combination of the three, has become the driving-force behind the project. He has been greatly assisted by Ian Nish (editor volumes I & II), Jim Hoare (editor volume III) and Gordon Daniels who co-edited its sister publications. This steadfast core and their fantastic cohort of energetic contributors have been able to carry the project successfully forward over the past quarter of a century thanks to the generous support and assistance given by Stephen McEnally & Mike Barrett and their colleagues at the Great Britain-Sasakawa Foundation, Paul Norbury and his dedicated publishing staff and Heidi Potter & Robert Guy and the innovative team at the Japan Society. In the last decade, contributing a Biographical Portrait also appears to have become something of a rite of passage for anyone who wishes to demonstrate their commitment to Anglo-Japanese relations. This new volume, which is dedicated to all contributors, demonstrates that this enterprise is set to thrive and develop over the coming decades.