Me Against the World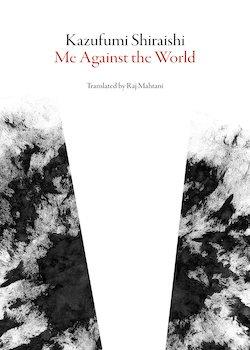 By Shiraishi Kazufumi
Translated by Raj Mahtani
Dalkey Archive Press, 2016
ISBN-13: 978-1943150021
Review by Poppy Cosyns

---
This novel by Naoki Prize winning author Shiraishi Kazufumi begins intriguingly, with a 'Publisher's Foreword' written by a fictional journalist. It explains that the ensuing work was discovered after the sudden death of his friend Mr K, who had been secretly compiling these 'private musings' while working as a businessman.
What follows is less a work of fiction than a hundred or so pages of nihilistic ranting, in which Mr K attempts – with an off-putting ferocity – to unravel the meaning of life (or lack thereof). In one of the more memorable passages, he goes as far as to liken human beings to cancer cells, noting that 'Humans too lead meaningless lives, having no reason to be born.'
Each and every one of us is something like a cancer cell. While cancer cells can metastasize anywhere and are able to adapt and grow in any environment, there really isn't a single thing that can be considered significant in their existence or in their nature to carry out unlimited proliferation.
Shiraishi reveals in a recent interview with The Japan Times that the novel was written as a stream of consciousness and took him just a week to write. On reading, this comes as little surprise. The text is separated into two parts, but is otherwise without chapters, and the ideas presented flow chaotically into one another, often with little sense of follow-through. False analogies and non-sequiturs dominate the discourse.
For the most part, this is a confounding and faintly distressing novel, which sees Mr K systematically rejecting those scraps of hope or meaning we all cling to when trying to make sense of our existence.
There is light at the end of this very dark tunnel however, with our narrator eventually arriving at a surprisingly optimistic conclusion. He declares that compassion is the one way to elevate the human condition above the 'diabolical programme that has been built into this world.' By this point the tone has softened and Raj Mahtani's translation is at its most lucid and readable, although how Mr K arrived at his optimistic denouement is difficult to discern.
While this is undoubtedly something of an arduous read, Me Against The World demands – in impressively unflinching style – that one consider and interrogate those most elemental of concepts: love; morality; science; religion, and for that reason alone it's worth the slog.