Kero Kero Bonito: Lily Allen Meets J-Pop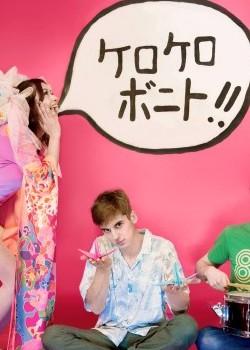 Kero Kero Bonito: Lily Allen Meets J-Pop
Scala, London,
9 November 2016
Review by Annabelle Sami

---
Kero Kero Bonito are a quirky three piece from London producing exciting alternative dance music. What immediately sets this group apart is the heavy influence of kawaii J-Pop in their otherwise avowedly indie London aesthetic. This comes across most clearly in lead singer Sarah Midori Perry's half-spoken, feel-good lyrics, which slip between Japanese and English.
On first listening it would be easy to assume that this brand of highly produced, ultra-melodic pop would attract a teenage fan base, dominated perhaps by those with an interest in Japan. On the evidence of this gig, where the audience comprised Londoners in their 20s and 30s, this would be to underestimate the broad appeal of Kero Kero Bonito's music, which avoids turning the Japanese element into a novelty. Underneath the sugary surface there are strong elements of psychedelic indie rock, alt-pop and dance, and with both music and lyrics it can be hard to tell where the cutesiness ends and the irony begins.
Look at the comments on YouTube and it becomes even more apparent that Kero Kero Bonito are introducing a new audience to J-pop. Certainly, the friend that came with me to the concert is now exploring what the genre has to offer, and on the night I was even being quizzed on the meanings of the lyrics – something that has inspired me to get back to the vocab books!
It was wonderful to see a venue packed full of people listening to an artist sing and rap completely un-affectedly in Japanese, enjoying the show whether they understood the language or not. Kero Kero Bonito certainly put on a show, with Sarah out front and Gus Lobban and Jamie Bulled on electronics, half-hidden behind a long table decked with synths and stuffed animals in equal measure.
All in all, to listen to KKB's music, and to go to their shows, is an uplifting experience. The fusion of Japanese and UK culture could bring a new dimension to the Anglo-Japanese community in London and is introducing new audiences to Japanese pop culture. Whether or not this is their intention, Kero Kero Bonito are clearly having a lot of fun doing what they do.