A Tokyo Romance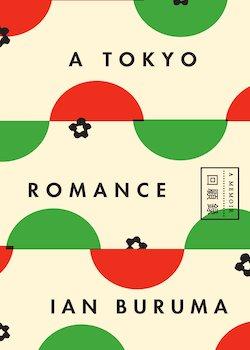 By Ian Buruma
Penguin Press, 2018
ISBN-13: 978-1101981412
Review by Beau Waycott

---
Ian Buruma is arguably one of the most well known public intellectual in contemporary culture. Journalist, author and now the relatively recently-appointed editor of The New York Review of Books, Buruma is a universally respected and valued voice on a plethora of pressing issues, be they political, artistic, cultural or prosaic. His 1984 book Behind The Mask was widely celebrated for detailing the darker undersides of Japanese culture, and laid the foundations of his intellectual career. Yet, for such a public figure, there has always been something of the flâneur about Buruma, with the journey he took from a disenchanted undergraduate Sinologist in the Hague to a leading expert on all things Oriental living in New York remaining a clouded mystery.
A Tokyo Romance serves to explain this journey, or at least the beginning of a life-long love and fascination with Japanese culture (be it low or high) and, more importantly, how this culture is manifested through art and design. Buruma's memoir of his time spent in Japan through the late 1970s to the early 1980s shows us not just how his personality as a youth was concreted, but also how a society caught between stupefying economic growth and the mass student protests that followed. Buruma escapes his upper class adolescence in the Netherlands with a scholarship to study film at Nihon University, Tokyo, but inevitably spends more time in seedy underground picture houses and rowdy town halls filled with drunken performances of live theatre than in the university's libraries or lecture halls. Finding amazement from these almost hallucinatory escapades, clearly serving in binary opposition to a wealthy and privileged upbringing, an enchantment with Tokyo's shitamachi (or, as Buruma translates it, "low city") is born.
Home has always been a thorny subject for Buruma, who describes himself early in the memoir as "Anglo-German-Jewish" with lapsed Dutch Protestantism in his paternal lineage. Readers can easily infer the noisy, neon and wholly alien nature of the shitamachi provides anonymity in which it is evident Buruma revels. Through lurid and often captivatingly poignant prose, readers are taken through a number of adventures within the context of contemporary Japanese cinema; perhaps most interesting is Buruma's association with Donald Richie, an American GI who stayed in Japan after World War II, and is widely credited with bringing Japanese film to popularity in America, particularly the work of Ozu Yasujiro. Richie serves as a sensei to Buruma, widening his view of Japanese society greatly with common acquaintances such as Terayama Shuji, whose character is portrayed deftly by Buruma in multiple misadventures.
Those with more traditional interest in Japanese culture may be shocked at the nature of Buruma's writing, with many of the works he details conforming to the principles of ero guro nansensu (erotic, grotesque, absurd), as was typical of avant-garde arts at the time, mainly in protest against both the contrived and snobbish nature of high-class Japanese traditions and the Westernisation of urban Japan and its culture. Throughout the memoir there becomes a growing tolerance for the perverse in the arts, with Buruma writing that Japanese society has a 'pornographic imagination' that is far more evident than in the cultures in which he grew up, be that through advertising and fashion or theatre and cinema. Just a cursory reading makes it clear that this holds a great appeal to Buruma, yet details of personal thoughts and emotions are frustratingly infrequent, with possible leads to a wider opinion all diverging before any true sentiment is shown. Buruma also worked as an assistant to Magnum photographers whilst in Japan, and many of his own black-and-white photographs of shocking avant-garde performances are printed in the book, yet they all receive either a perfunctory mention or no mention at all, with stark and brief notes all that accompany such expert pieces of photojournalism.
Ultimately, Buruma finds the cinematic world too insular, drops out of his university studies and begins to spend more time in theatres, growing an interest in Noh and other unconventional schools of performance. As he becomes more and more immersed in Japanese society, a strange paradox becomes evident. Moving deeper into the lives of Japanese friends, be it through travel, work or friendship (or, often with Buruma, a combination of all three), he actually becomes more isolated and removed from the native group; the status of gaijin becomes far more noticeable for Buruma, for his Japanese counterparts, and for the reader. Buruma is forced to accept a rhetoric of "once a gaijin, always a gaijin", and a feeling of discontent rises the further he integrates into society. Buruma seems to almost juxtapose Murakami Haruki's characters: whilst Murakami shows solitary Japanese characters with mainly Western traits, Buruma is a sociable Western character with Japanese traits.
Buruma's memoir is warm, artful and fond, describing the youthful, colourful and rich escapades of an open and free young man living in foreign anonymity. Complimented with lucid, agile prose that bounds off the page and straight into all of your senses, Buruma has created a memoir that comes close to literary wondrousness. Yet, despite the captivating plot and beautiful authorship, Buruma's feelings remain overly guarded, and there is a constant sense of detachment from the text, almost as though the sixty-something Buruma writing the text can see little commonality with the past self he's writing about. The remote nature of Buruma's own characterisation leaves doubt about what the true "romance" of the novel is; perhaps it is the art Buruma creates and reviews, or the namelessness he is allowed in a foreign culture, or maybe sexual freedoms not comme-il-faut in his native Europe. Overall, however, A Tokyo Romance receives a warm recommendation, due to its holistic portal of Japanese society, cinema and theatre in a time where Japan was undergoing something of an identity crisis, and at a time when the identity of a truly fascinating intellectual was becoming.