British Foreign Secretaries and Japan 1850-1990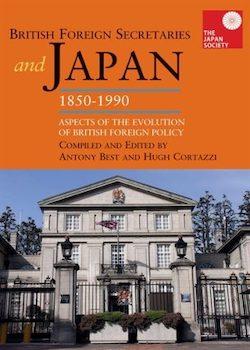 British Foreign Secretaries and Japan 1850-1990: Aspects of the Evolution of British Foreign Policy
Edited by Antony Best and Hugh Cortazzi
Renaissance Books, 2018
ISBN-13: 978-1898823735
Review by Peter Kornicki

---
International travel, G8 and G7 summits, video conference calls and the internet have brought immediacy and personal chemistry into play in foreign relations in recent years, and it is very easy to take them for granted. In the middle of the nineteenth century, however, communication was by sea-borne mail, which took two to three months from Japan to Britain and vice versa. Japan was not only on the other side of the world, but it was also largely out of mind. Indeed, it wasn't until 1962 that a British foreign secretary visited Japan, and 1972 that a British prime minister travelled to Japan.
The essays in this book, written by the two editors and by others including Ian Nish and Thomas Otte, show us how the Anglo-Japanese relationship played out in Whitehall through the careers of the successive foreign secretaries, starting with Lords John Russell, Clarendon and Granville and ending with Sir Geoffrey Howe. In addition, the late Hugh Cortazzi provides accounts of the policies of Edward Heath and Margaret Thatcher, the first two prime ministers to visit Japan. As Antony Best reminds us in his wise and wide-ranging introduction to this volume, between the mid nineteenth century and the years of Mrs Thatcher as prime minister, the relationship between Britain and Japan had not only gone through ups and downs but had also been fundamentally transformed. In the 1850s Britain and the British Empire were thriving and enjoyed enormous power that covered the globe while Japan was a newcomer on the international stage. By the 1970s Britain had lost its empire and was in economic decline, while Japan was enjoying a period of high-speed growth and was very clearly on the rise.
For most of the nineteenth century it is difficult to identify anything that could be called a policy towards Japan in the Foreign Office. For Britain the promotion of trade was the prime interest, even though Lord John Russell, for example, was unimpressed by the arrogant behaviour of some British merchants in Japan. For the most part, therefore, matters were left to the Minister (from 1905 Ambassador) on the spot, even after it became possible, in the 1870s, to communicate rapidly by telegraph. Foreign policy towards Japan, then, was mainly pragmatic and took the form of reaction to events. Two phrases that occur in this book, 'cautious inactivity' and 'benign neglect' seem to encapsulate the approach of successive foreign secretaries in the nineteenth century, few of whom seem to have taken any particular interest in Japan.
In the late nineteenth century there were a number of issues in the Anglo-Japanese relationship that very much exercised the Japanese government, however, particularly the unequal treaties and the question of extraterritoriality. It was only in the final decade of the nineteenth century, however, that Japan began to impinge on the consciousness of successive foreign secretaries. In 1894 negotiations for the revision of the treaties got underway and although they did not reach a conclusion for many years the atmosphere had definitely changed. This was partly because of growing suspicion of Russian intentions in East Asia and partly, of course, a reaction to Japan's success in the Sino-Japanese war of 1894-95, which made Japan the dominant power in East Asia. Sir Edward Grey went so far as to say in retrospect that, 'We had made up our minds that the time had come when dealings with Japan must be put on the same equal terms as exist between nations of European origin'. These fine sentiments were slow to be put into action, but the formation of the Anglo-Japanese Alliance in 1902 inaugurated a period in which Japan required more than 'benign neglect' from foreign secretaries.
Lord Curzon, who served as foreign secretary from 1919 to 1924, was the first to have already taken a serious interest in Asia. In 1892 he had visited Japan as an MP and met a number of senior members of the Japanese government including Ito Hirobumi, the prime minister. In 1894 he had published Problems of the Far East: Japan-Korea-China, and he had drawn on his knowledge of Japan's military strength to predict a Japanese victory in the Sino-Japanese war. His period in office coincided with the end of the Anglo-Japanese alliance in 1923, but Curzon had in fact been in favour of extending it for a further period.
Curzon's successors lacked both his first-hand knowledge of Japan and his interest in East Asia but they also had to deal with far more serious problems as Anglo-Japanese relations deteriorated in the 1930s.
Ernest Bevin as foreign secretary in the post-war Labour government had to deal with the occupation of Japan and the conclusion of a peace treaty, but over subsequent decades, as the Japanese economy entered a period of sustained growth, relations with Japan entered a new phase. Increasingly trade issues, such as access to the Japanese market and Japanese investment in Britain, became the focus of British policy, but there was also growing recognition of Japan's growing role on the world stage, for when the G6 was formed in 1975 Japan was one of the original members. Whether they were interested or not, foreign secretaries found that Japan took up more of their time and attention, and Japan has continued figure prominently in the formation of British foreign policy. More recent developments, however, such as responses to the transformation of China into a global economic and political power are not covered in this book, for the obvious reason that under the 30-year rule the relevant papers have not yet been released.
Anybody with an interest in the political dimension to the Anglo-Japanese relationship will find this book a goldmine, while for those who work on the Foreign Office papers in the National Archives in Kew, it will be an invaluable guide to what was going on in London while successive ambassadors were reporting on events in Japan. The essays are uniformly well researched and they manage to locate changing policy towards Japan in the context of a fluid international situation in which Japan usually did not figure prominently in British political considerations.
Few Japanese political leaders have been comfortable in English, it is true, but on the other hand no British foreign secretary has yet been able to display much knowledge of Japanese. For this reason, interpreters have had a crucial but invisible role to play in Anglo-Japanese relations, as have British diplomatic representatives in Japan. This book carries on its cover a picture of the imposing British Embassy building in Tokyo, and perhaps there is in that just a suggestion that foreign policy may be made in Whitehall but would be at sea without the acumen of British ambassadors, most of whom have had at least some knowledge of Japanese. One of them, Sir Hugh Cortazzi, who learnt his Japanese during the war, was the joint editor and originator of this book, and it is sad to note his passing.