Japan – 100 Hidden Towns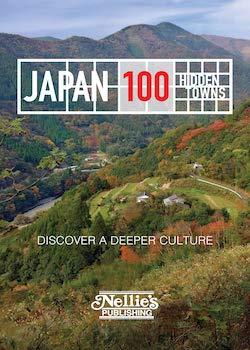 Edited by Anthony Gardner
Nellie's Publishing, 2018
ISBN-13: 978-4905527497
Review by Susan Meehan

---
I was won over by this guide book to Japan. Initially I wondered whether there is a market for a printed travel book in this age of informative websites and apps, but Japan 100 Hidden Towns contains information that is not as readily accessible, well considered or well researched.
It is evident that much effort went into the book. Candidate towns were recommended by each of Japan's 47 prefectures and also by a selection committee. Over 150 towns were visited and researched by a team of foreign researchers mainly resident in Japan. The fruits of the research were appraised by the mostly Japanese selection committee and the 100 towns chosen. The towns are not overly obscure or difficult to reach and I can certainly vouch for ease of travel to and allure of Imabari, Izu Oshima, Nagatoro, Kawagoe, Sakata, and Kusatsu.
The book highlights which of the towns are known for performance arts, local delicacies, traditional crafts, hot springs, seaside, museums/galleries, wildlife/nature and festivals while also indicating which towns are ideal for history lovers, geology enthusiasts, art fans or hikers amongst other categories. It also contains succinct travel information. Entries include "must see" places, nature spots and food and drink information, and also refer to an area's history with allusions to Will Adams, the provenance of the watery, mythical Kappa or the Emperor Go-Toba for example. An oversight, perhaps, is lack of commentary on Lafcadio Hearn in the section on Shimane.
While the book is a welcome addition for intrepid travellers keen to deviate from the more well-trodden paths, it is also extremely useful for repeat visitors to Japan and Japan residents. It is valuable for those who travel in search of particular attractions, such as food, nature and culture – from Kabuki to regional soba noodles and Akashi's own variety of takoyaki – all highlighted in the book.
Having lived in Japan for just over five years, I was pleased to find Miyakojima, a characterful and beautiful Okinawan island, included. The condensed information about Miyakojima is useful, but perhaps the travel section could have mentioned ferries between the islands rather than just flights from Tokyo. "Slow" travel is an altogether different proposition, however, and may require another book. Happily, the book mentioned travel to Yakushima by jetfoil from Kagoshima Port rather than just by aeroplane and likewise with regard to Amami.
While first-time travellers to Japan may not want to miss out on visits to Tokyo and Kyoto, this book will help them enhance their journey to Japan via side trips to places like Tono's Furusato Village in north eastern Japan, a gorgeous Edo-period farming village with thatched-roof buildings in a setting of ponds and rice field. Readers are likely to be taken with the idea of visiting Rikuzentakata's Miracle Pine, the only surviving pine from this part of the coast, ravaged by the 2011 tsunami; and Amanohashidate, a naturally occurring sandbar in Kyoto Prefecture. There is an evocative photograph of a visitor to Kasamatsu Park bent double, looking through his legs towards Amanohashidate which appears like a ladder leading to heaven when viewed from that position.
The book is just over 400 pages in length, but a very handy, easy to carry size. It features beautiful, enticing photographs, travel advice and useful phrases in Japanese. The information is very much condensed, but encourages the reader to perhaps undertake more in-depth research and to refer, rather cleverly, to its website, www.100hiddentowns.jp, which includes detailed maps and updates to help readers while on their travels.