Switched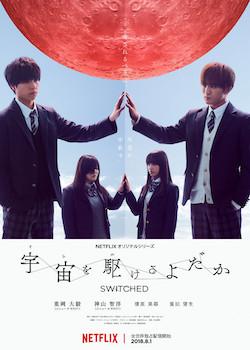 Directed by Matsuyama Hiroaki
Switched (Sora wo Kakeru Yodaka)
Season 1 - Available on Netflix
Review by Severah Noureen Akhtar

---
If you haven't already heard of Netflix's latest obsession, Japanese drama Switched, you will probably not be prepared for the exhilarating, beautiful and horrifying ride you are about to embark, thanks to director Matsuyama Hiroaki (Liar Game) and the stellar cast who make this show compulsive viewing. Based on the manga by acclaimed writer Kawabata Shiki, Sora wo Kakeru Yodaka, this 6-episode show is a twist on the once family friendly concept of body swapping, reviving it as a dark psychological drama contrasted against heart-warming friendships. Centred around four teenagers attending school in Japan, the show moves steadily across its web of intricately connected storylines to create a world of darkness, loyalty and friendship, through its fine dialogue, stunning cinematography, and suspenseful plot twists, making this show a must see for both Japanese and non-Japanese alike.
Starting with a confession of love, the protagonist, Ayumi (Kiyohara Kaya, My Tomorrow Your Yesterday, 2016), whilst on her way to meet her boyfriend, witnesses the death of her classmate Zenko (Tomita Miu, Solomon's Perjury, 2016), only to wake up in hospital, in Zenko's body. From that point onwards, the narrative creates a very intriguing tale, seen mostly from a female perspective. The story is not for the faint hearted, and even the toughest of viewers will find themselves weeping at parts, either in anger or joy. Without any question of a doubt, the show is not aimed at young children. In fact, I would advise caution and a trigger of suicide from the start for even the adults. But don't be fooled into thinking you can ever understand the depth of this show without watching it. The plot not only thickens from the get-go, it will stir in you a deep sense of injustice, love and frustration, which will surprise and shock you, whilst leaving you in absolute awe at the talent of the director, writers and cast.
The foundation of Switched, is best described as the grass isn't always greener on the other side. A lesson which the key characters learn very quickly. It's no surprise then, that with this cautionary tale, you can't help but ponder to yourself and relate to the harrowing issues of self-loathing, internal struggles, mental health issues and loneliness. Switched addresses with the issues of body shaming and attractiveness in the most shocking yet beautiful manner. Whilst Japanese media is known to be openly critical to people of a larger size, this show does something different. It turns that whole idea on its head. And if you thought that Japan glamourises bullying, well, be prepared to be proven wrong in the most fantastic way through the brilliant character developments of the fabulous four throughout the show. Each character's storyline is interwoven with the next, creating a web of stories that compliment yet devastate each other's in the process.
Despite the darkness of the tv show, the key messages are actually very positive, with the sweetness of Ayumi's character whilst in the body of Zenko, the show emphasises that your inner beauty is what matters the most. And in a time when social media has created a world of fake bodies, fake lives and fake smiles, this message is not only very welcome, but also extremely important.
One of the most entertaining aspects of this short but exhilarating drama, is that it is in fact, not a teenage drama at all. It's every design and storyline scream dark humour, horror, and psychological thriller yet you are transported into the darkness of a teenage fantasy. The character portrayal of Ayumi residing within the body of Zenko is played with such natural sweetness and charm by Tomita and wins over the viewers hearts to such a degree that you wish, surprisingly, that she remain in the body of Zenko and continue to be as adorable as she is seen. This in itself will leave many a viewer wondering and confused about who they are truly rooting for, making even more emotionally charged viewing.
In conclusion, Switched has an absolute stellar cast, who manage to bring to life the original manga, better than itself. Whilst the premise of the show is a far stretch from reality, it's intense performances will leave you at the edge of your seat throughout the 6-part show. A word of caution though, don't watch this show if you have an early start the next day, as there is no question of a doubt that you will binge watch the whole series and be up all night in the process. Not only that, you will be left clutching your nearest and dearest till the end and spend the next week or two with a deep yearning for another episode, and another glimpse into the lives of your new friends. Switched receives the highest of recommendations, with a trigger warning of suicide and death for viewers who may be affected. It has mild violence and gore.